Stoptober urges smokers to 'mass quit'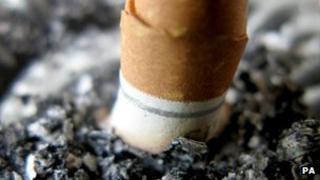 Smokers are being asked to give up smoking for 28 days from 1 October in the first mass quit attempt.
Stoptober, backed by Cancer Research UK and the British Heart Foundation, hopes a united effort will help many of England's eight million smokers to quit successfully.
Research shows people who stop smoking for 28 days are five times more likely to stay smoke-free.
It also shows mass movements and mass media campaigns can have a big impact.
Public health experts say campaigns that include a combination of hard-hitting "why to quit" and supportive "how to quit" messages work best.
Giving up smoking can be difficult. People are much more likely to quit successfully if they get support than if they try to do it alone and go cold-turkey.
Robert West, director of tobacco studies at University College London, told the BBC there was good reason to set up a mass movement to help smokers quit because people are "social animals" influenced by each other.
Smokers who join Stoptober are given free support to help them quit. There is a mobile phone app that can monitor quitters' progress and the offer of daily motivational texts to keep them on track.
There is also a Stoptober Facebook page where people can exchange ideas and get additional tips and advice.
According to the Department of Health, smoking is the biggest cause of premature death in England and accounts for over 100,000 deaths in the UK each year.
One in two long-term smokers will die from a smoking-related disease.