Blood patients told to double-check identity before treatment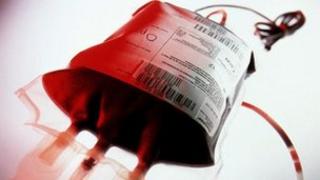 Patients should double-check that medical staff have got the right person before they willingly receive blood, says a new campaign.
NHS Blood and Transplant says although rare, errors do happen, and most are due to mistaken identity.
In 2012, out of three million blood transfusions in England and Wales there were nearly 250 incidents where the wrong blood was given.
The Department of Health says mistakes such as these should never happen.
Misidentification of patients and transfusing incompatible blood are on their list of 'never events' - situations they say should be entirely avoidable.
There are four main blood groups - O, A, B and AB.
Medical staff should always check what blood group you are and make sure any blood they give you is compatible.
Giving someone incompatible blood could be life-threatening.
All outpatients should be asked to state their full name and date of birth before blood tests and samples are taken.
All in-patients should have a correct identification band on their wrist and also be asked to state their full name and date of birth by staff who are caring for them.
Rebecca Gerrard, head of Better Blood Transfusion at NHS Blood and Transplant, said: "We have hardworking and professional healthcare staff involved in blood transfusion from donation right through to transfusion.
"However, we accept that none of us are infallible - we are all capable of making mistakes and incorrect patient identification remains the biggest reason for mistakes to happen."
She said even one mistake was one too many where patients lives were concerned.
"So we're asking patients to help staff by ensuring they know who you are, so identification mistakes leading to incorrect transfusions never happen."