Troubled nurse regulator offered extra money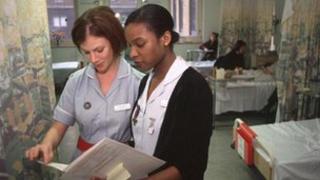 Ministers have offered the Nursing and Midwifery Council an extra £20m to help it solve its long-running problems.
The regulator, which registers nurses and midwives, has been under fire because of problems with staff turnover and a large backlog of cases.
To help it rectify the issues, the NMC was looking to increase registration fees by nearly 60%.
But the government said the £20m should help limit that rise at what was a tough time financially for staff.
The regulator had proposed the mandatory fee should rise from £76 a year to £120.
But Health Minister Dan Poulter said: "I am mindful that in these times of pay restraint, it is not right that hard-working nurses and midwives are burdened with the full financial cost of improving the NMC's fitness-to-practise function."
He also reminded the regulator it was essential it got to grips with its problems.
"Following a period when we have heard so many terrible abuses in the care of older people and vulnerable patients, it is important that organisations like the NMC are in the right shape to properly perform their job of protecting patients."
The NMC said it would not be deciding whether to accept the extra money, which is just being offered as a one-off, until later this month.
The report into the NMC - published by the Council for Healthcare Regulatory Excellence - said the NMC had failings "at every level" and was therefore not fulfilling its prime duty of protecting patients.
In particular, it revealed the regulator had a high turnover of staff - about a third were leaving each year - and was facing a backlog of 4,500 cases dating back as far as seven years.