Salmonella cases linked to liquid egg whites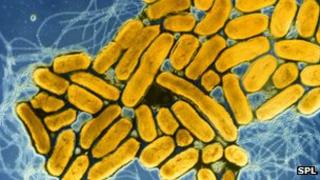 Bottles of liquid egg white, used by bodybuilders and bakers, have been linked to seven cases of salmonella in the UK, according to the Health Protection Agency.
The bug causes diarrhoea, vomiting, abdominal pain and fever. One patient needed hospital treatment.
The affected batch - an own-brand product by Myprotein - has been recalled.
The source of the eggs used in the batch is still being traced.
A similar outbreak connected to liquid egg white in 2007 affected 70 people.
Dr Bob Adak, the head of the gastrointestinal diseases department at the Health Protection Agency, said: "This egg product has been subject to a recall and so we hope that now that it is no longer in circulation that this will stop people becoming unwell.
"If anyone has any of this batch of product at home then they should dispose of it.
"Although there has been no increase in the number of cases of this type of salmonella over recent weeks we are still investigating whether newly identified cases might be related to this egg product."
The products were sold through the Nutri Centre stores and website. Only batch code L232203 was affected.