The dilemma over care for the dying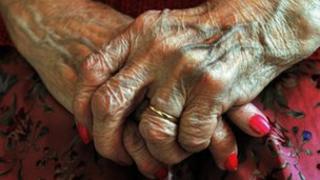 The Liverpool Care Pathway is a fairly innocuous name for what is perhaps one of the most difficult decisions a doctor has to take: deciding when someone is ready to die.
The pathway allows doctors to withdraw treatment or tests that would be deemed to cause unnecessary suffering at the end of life. This can include anything from CPR to artificial feeding through tubes. The use of sedation to alleviate distress is often used.
But, despite suggestions to the contrary, the pathway's aim is not to hasten death, although that can clearly be the result.
The idea behind it is that since patients are beyond help, it is better to allow them to die with as much dignity and in as little distress as possible. But as with many forms of medicine it is not an exact science.
It can be very difficult for doctors to know when someone is in the final hours or even days of life and so some people can be put on the pathway and then taken off.
This seems to be the crux of the problem and is why the pathway, which has been in use since the 1990s and is widely accepted as good practice in end of life care, has started to get a lot of attention.
The Daily Mail and Daily Telegraph have both been giving the issue a lot of coverage recently after families have come forward saying their loved ones were placed on the pathway without their knowledge. Some have said they were not even dying.
What is not clear is how widespread this is. There are about 500,000 deaths a year, over half of which happen in hospital and so it would be a miracle if among those there were not some people who were unhappy with how their loved ones had been cared for in their final moments.
Certainly the most official audit of its use - in 2011 - showed that 94% of people thought the use of the pathway had been explained to them and that they had been involved in the decision to use it.
'Often inaccurate'
There is also some disquiet over the revelation that some hospitals are being paid to use the pathway. But inside the NHS this makes perfect sense.
Across the system financial incentives are built in to encourage services to adopt good practice from offering smoking cessation through to ensuring hip and knee patients are seen quickly. Providing good end of life care - as the Liverpool Care Pathway is designed to do - is no different. Nonetheless, it is easy to understand how the idea of paying doctors to withdraw care can be misconstrued.
And so this has created a tricky dilemma for those involved. On the one hand there is a host of respected organisations lining up to publicly back the pathway.
Only last month 20 organisations, including patient groups such as Age UK and the Alzheimer's Society and medical organisations like the British Medical Association and Royal College of Physicians, put their names to a joint statement criticising the "often inaccurate" coverage the issue was getting.
But on the other side there is a growing number of distressing stories from people who are unhappy with how their loved ones were cared for, prompting Conservative peer Baroness Knight to call for an independent inquiry.
Ministers have tried to defuse the situation by announcing there will be a "round-table discussion" to debate the issue, while the National End of Life Care Programme has agreed to work with hospitals and doctors to see if there are some lessons to be learnt.
But unless there are some clear answers about the scale of complaints and problems associated with the pathway this is a controversy that could run and run.