Liverpool Care Pathway: Relatives 'must be informed'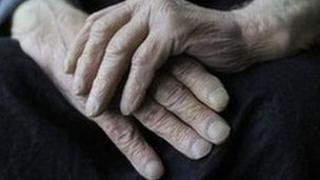 Relatives of terminally-ill patients would have to be consulted before a decision to withdraw food or water is taken, under new government proposals.
It comes after some patients were placed on the Liverpool Care Pathway - designed to relieve suffering - without their relatives' knowledge.
The government wants to ensure families are told of life and death decisions.
The instruction will be included in a number of proposed changes to the NHS Constitution to be unveiled on Monday.
The Liverpool Care Pathway was developed at the Royal Liverpool University Hospital and the city's Marie Curie hospice to relieve suffering in dying patients, setting out principles for their treatment in their final days and hours.
Supporters say it can make the end of a patient's life as comfortable as possible and the method is also widely backed by doctors and many health charities.
However, critics argue it can be inhumane.
The government has now said that the rules needed to be stricter, meaning relatives of patients are always consulted before the technique is applied.
'New right'
A Department of Health (DoH) spokesman said the proposed changes would set out a "new right" under the NHS Constitution, which was established by the Health Act 2009, but he stopped short of describing the move as a "legal requirement".
However, the spokesman added: "Anybody providing NHS services is required by law to take account of it [the NHS constitution] in their decisions and actions."
Some reports suggested health trusts that failed to involve patients and families in decisions could be sued, while doctors could face being struck off.
The DoH spokesman said it was unlikely policy had been developed on this as the proposal was still at an early stage.
Health Secretary Jeremy Hunt will launch a 12-week consultation on the proposed changes to the constitution - the formal statement of patients' rights - on Monday.
Health minister Norman Lamb said this week that it was "completely wrong" for terminally-ill patients to be put on a "pathway" to death without relatives being consulted.
Mr Lamb has called a meeting of doctors and patients to discuss worries about the pathway.
Meanwhile, Conservative peer Baroness Knight called for an inquiry into claims some people might have survived had they not received this treatment.