NHS 'must be tougher negotiator' on private deals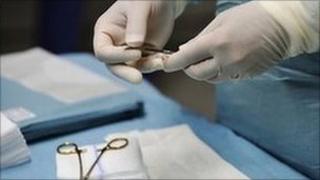 The NHS must get tougher at negotiating future private deals after signing a contract with a firm to manage an NHS hospital in Cambridgeshire requiring "unprecedented" targets, auditors say.
Circle is aiming to make over £300m of savings in the 10 years it has been given to run Hinchingbrooke Hospital.
The National Audit Office said it was concerned that Circle's ability to make the savings was not properly tested.
Circle says the heavily-indebted hospital can break even in 2013.
The firm took over the management of Hinchingbrooke Trust in February after winning a tendering process.
The savings target is the equivalent of over 5% of savings being found every year.
Circle had projected that the Trust would have a £1.9 million deficit after six months under its stewardship, but in September it reported a deficit of £4.1 million.
However, Circle has improved services in areas such as A&E.
'Basket case'
The NAO report described how both Circle and another shortlisted bidder increased their proposed savings by over 25% in the final stage of the process.
It says more should have been done to assess the risks of what were "increasingly optimistic" bids.
It said it could not yet predict whether Circle would achieve its plans, but added that the tendering process did not "fully consider" the relative risks of the bidders' savings proposals.
It said that in future processes the NHS and government, which signed off the deal, needed to do more to identify what was realistic.
David Moon, who led the review for the NAO, said: "There are lessons to be learnt. If they do it again they could do it better."
He added: "We believe that before any other franchises are entered into, the Department should... make sure that any weaknesses in the process are ironed out for any future tenders."
While the Hinchingbrooke deal was the first of its kind, there are a growing number of trusts that are running up deficits and future deals of this type are not being ruled out.
Christina McAnea, head of health at the union Unison, said the report showed the deal was a "dangerous" experiment, which should "sound alarm bells".
But Circle chief executive Ali Parsa said he was confident his firm would make a success of it.
"Remember that when Hinchingbrooke was first given to the Circle Partnership to run, all questions were on our ability to run A&E, and alleged threats to quality.
"Now, for the first time, Hinchingbrooke is consistently the best A&E performer in its region.
"Having overcome the quality issues facing the hospital, we have little doubt that our partners in Hinchingbrooke will overcome the financial challenges too, and next year break even for the first time in years.
"Not bad for a hospital that faced closure and was written off as a 'clinical and financial basket case'."
Health Minister Lord Howe said he had been "encouraged" by what had happened so far.
"Hinchingbrooke is showing that operating franchises can be a powerful tool for turning round failing hospitals," he added.