Poor communication fuels rise in NHS complaints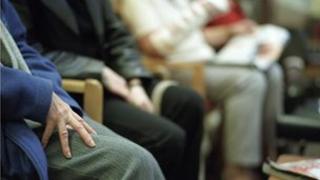 "Careless", "insincere" and "unclear" communication has fuelled a surge in complaints against the NHS in England, the health service ombudsman has said.
Her report says the NHS needs to improve the way it deals with patients unhappy with the care they have had.
It also highlights an increase in complaints about independent providers offering care to NHS patients.
A patients' group said the NHS needed a "cultural change" in the way it handled complaints.
The health service ombudsman is a "last port of call" for people unhappy with their NHS care or with how a complaint has been handled locally.
In all, it received 16,333 complaints in the year 2011-12.
But just under 11,000 of those were redirected to other organisations or back into the NHS complaints system.
Another 1,000 were withdrawn by the complainant.
The ombudsman investigated 4,399.
'Clear shift' needed
This report, by the new ombudsman, Julie Mellor, says there has been a significant rise, when compared with the previous year, in the number of complaints where the NHS failed to adequately deal with situations when things have gone wrong.
It says there was a 50% rise in incidents where the NHS did not acknowledge mistakes in care, up from 1,014 to 1,523.
And there was a 42% rise in complaints about inadequate remedies, such as poor apologies, being offered, up from 1,163 to 1,655.
There was also a 61% rise in complaints about independent providers - up from 169 to 272
And it says there is a continuing problem of GPs striking patients off their lists "unfairly or hastily".
The previous year's ombudsman's report issued a warning to family doctors about dismissing patients, but this latest report says despite that, complaints of this kind have increased by 16%.
Ms Mellor said in her report that there needed to be a "clear shift in attitude and practice" among some GPs.
She said: "All too often the people who come to us for help are unhappy because of the careless communication, insincere apologies and unclear explanations they've received from the NHS.
"A poor response to a complaint can add to the problems of someone who is unwell, struggling to take care of others or grieving.
"The NHS needs to get better at listening to patients and their families and responding to their concerns."
'Not doing enough'
Katherine Murphy, chief executive of the Patients Association, said: "This important report makes clear that the NHS is still failing to communicate properly with patients and relatives, with a shocking 50% rise in complaints about poor communication.
Ms Murphy added: "A cultural change in how the NHS handles and responds to concerns from patients, as well as more active promotion of patients' rights through the NHS constitution is now needed urgently."
Dr Peter Carter, General Secretary of the Royal College of Nursing, said: "This report shows that too often mistakes are compounded by the poor handling of complaints. Sometimes they're simply ignored or dismissed, and other times the lessons are just not learned."
He said the NHS needed to make a "concerted effort" to improve how it dealt with complaints."
Mike Farrar, chief executive of the NHS Confederation, which represents trusts, said: "Of the 16,333 complaints that the health ombudsman received, over two-thirds were sent back to local organisations because they had not completed the NHS complaints procedure.
"This suggests that we are not doing enough to resolve things at an early stage and communicate with people about how they can raise their concerns.
Health Minister Dr Dan Poulter said: "If things go wrong, some NHS organisations respond to complaints better than others. This is something that the NHS must improve."
He said more stringent rules on complaints handling were being proposed under the new NHS constitution, and that a new body, HealthWatch, was being introduced to represent patients within the NHS.