Your stories of life after a hip replacement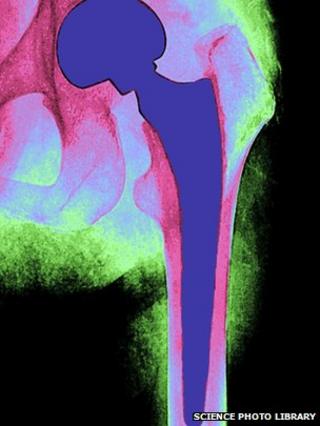 Surgeons have been carrying out hip surgery since the 19th century, but 50 years ago a British surgeon with an interest in engineering developed a technique that revolutionised hip replacement operations.
Sir John Charnley's great innovation was to realise that low friction between the ball and socket of the hip implant was vital.
So he designed his own implant as well as the surgical procedure to go with it - to create the total hip replacement.
The operation has since become the standard procedure and has been carried out on patients across the world.
BBC News website readers have been contacting us with their experiences of hip replacement operations. Here are some of your stories.
Jan Eyres, Bristol
It was all very difficult.
I first got rheumatoid arthritis when I was 14.
It was really quite severe so by the time I was 18 I was already on the waiting list for hip replacements and really could not walk well.
My dad had to carry me up and down the stairs and I basically shuffled when I walked.
I had both hips replaced when I was 20.
It was unusual to have such a operation at that age and the surgeon said I would probably need a second operation as I got older, but I had no option because I was in so much pain.
The hip replacements I had was the Charnley model and they are still going strong 28 years later.
Today they do the operation slightly differently.
I've also had replacement knees and ankles because of the rheumatoid arthritis, but my hip replacements have been the best of all the operations.
The difference having the surgery has made to me is amazing.
I'm not allowed to do sports or put any impact on my joints, but I can work full time and look after myself.
I could hardly walk before I had the replacements and they've obviously made an incredible difference to my life.
Prue Wintrip, Dorchester
Due to severe osteoarthritis I needed a hip replacement when I was 55.
I was in immense pain, worse than childbirth, and could only do things as long as I didn't sit down.
We were running a B&B at the time so it was all very difficult.
Having the first hip replacement triggered off my other side so a few years later I had to have the second one done.
Unfortunately due to manufacturing faults both hips broke and I had to have a second operation on both hips.
I had the final operation in November last year.
It means that in almost ten years I've had four hip replacements.
The difference now is absolutely fantastic.
I am doing a lot of physio still and have started some slow zumba dancing.
It means I've been slowly building up my confidence that these hips won't break.
As a result of the hip problems I've also had a new knee.
Crucially, I know what to do and what not to do and I have no pain.
Ian Bayliss, Rhyl
I had a formal diagnosis that my hip wasn't good back in 1995. My hip had deteriorated.
The level of disability was such that I'd sit in my car for 10 minutes just to pluck up the courage to move.
Such is the pain of arthritis. I was referred in and had the operation in November 2001.
I now have the standard replacement, called the De Puy joint, invented by Dr. Maurice Müller. It's the metal ball head that fits into the core of the femur.
The metal ball goes into a thick plastic cup which is then cemented into your pelvis.
The benefits are brilliant, I was seen a couple of weeks after discharge from hospital.
I'd gone from two sticks to one stick to no stick. I have little or no pain or discomfort at all. The thickness of the plastic cup is measured.
It's at an angle and it's the vertical height where wear and tear happens most.
I reached a 10-year milestone in 2011. "You're fine, come back in five years", they said.
I can more or less lead a normal life.
I've been asked if I'd like to be a bone donor, so my bone can be used to help others. I would do it and I would recommend it.