Whooping cough: Three more babies die in outbreak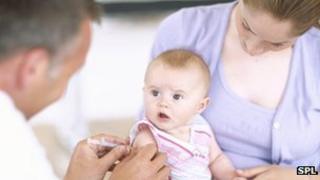 Three babies died from whooping cough in October as one of the worst outbreaks of the disease in decades continues, Health Protection Agency figures for England and Wales show.
It brings the number of deaths in newborns, who are most at risk of fatal complications, to 13 this year.
There were 1,614 infections last month, bringing the total to 7,728 this year.
A UK-wide campaign to vaccinate pregnant women, to pass protection on to their children, is under way.
There are surges in whooping cough cases every three to four years. However, the current outbreak has affected nearly 10 times as many people as the previous outbreak in 2008.
There have been more than 1,600 cases reported in Scotland and around 280 cases in Northern Ireland, but no deaths.
Immune system
The infection can stop a baby breathing or lead to pneumonia, brain damage, weight loss and death.
Newborns are most vulnerable as they are too young to be vaccinated - doses are given at two, three and four months of age.
Pregnant women, between 28 and 38 weeks, are now being offered a whooping cough vaccine. It should prompt the mother's immune system to create more antibodies to attack the whooping cough bacterium. The antibodies should pass from the mother to the child in the womb and offer protection when a baby is born.
In August, there were 72 infections in children under one. That fell to 67 when the vaccination programme started in September and fell again to 46 in October. However, it is too soon to tell if vaccination is making a difference.
Dr Gayatri Amirthalingam, consultant epidemiologist for immunisation at the HPA, said: "The October figures show a continuing rise in the overall number of whooping cough cases.
"While there has been a decline in the number of infant cases it's important to emphasise that it's too early to see any impact from the pregnancy vaccination programme.
"We strongly recommend all pregnant women take up the offer of vaccination."
Routine vaccination was introduced in 1957. Before then cases could affect more than 100,000 people and kill 300 in a single year.
Health experts do not know why the outbreak is so large this year, especially as vaccination for whooping cough is at record levels.
Theories include the bacterium that causes the infection, Bordetella pertussis, mutating or the current vaccine not providing protection for as long as those used in the past.
Another idea is that tight control of whooping cough is part of the problem. People's immunity to whooping cough is boosted throughout life by being regularly exposed to it.
However, after years of low levels of whooping cough the whole population may have been left more vulnerable to the infection.