Compassionate care: Nurse stories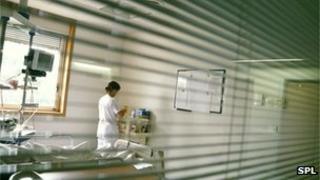 The chief nursing officer for England has called for a renewed emphasis on compassion, competence and commitment within the profession.
Jane Cumming has launched a campaign to reinforce the values she says epitomise nursing.
She wants new ways of measuring patient feedback, and to get trusts to review their culture of care and staffing levels.
But nurses on the front line have told the BBC the job has many difficulties that need to be factored in before the strategy is likely to see any success.
Jason Lightoller, nurse, London
Compassion is not something we can be taught. You either have it or you don't.
You can spend all this money on fancy courses and residential centres, but it won't mean that you will have compassion.
There are many nurses who bring compassion to the job, but then over the years so much pressure is put on them that they get burnt out and it gets lost.
I have been in health care for 18 years and it's changed considerably over that time.
There is so much paperwork now that it is hard to find the time to just be compassionate.
There are few people on the front line and they have so much workload. It's not surprising people snap - I've been guilty of it myself and I'm not proud of that at all.
The problem is the patients need the nurses far more than the nurses need additional patients.
When I did my training, it was very much focused on primary care - they didn't teach interpersonal skills.
The other thing is cultural nuances. In London, a significant proportion of nursing staff come from overseas and so there are other factors to consider.
For example, nurses in the Philippines don't wash patients because the families do that, so when they come here they have to learn that that is part of British tradition.
There is also the issue of job matching - there are nurses who do not have face-to-face interviews but are chosen on their training performance - and cost cutting when nurses who leave are just not replaced. Of course, that will have an affect on those left behind.
Do I think things will change? It's unlikely.
John Cooper, nurse, Kent
I have been a staff nurse for more than 26 years, as I prefer working at patients' bedsides.
Years ago a new training regime called Project 2000 was introduced and it made the whole process a lot more academic. I feel it also meant that there was a loss in quality in terms of the nurses produced.
When I did my training, having compassion was key and there was a far stronger practical element.
Now I've had third-year students before who have been unable to make the assessments I required from them.
One of the main problems now is that we don't have bedside nurses anymore.
Instead we spend most of our time filling out paperwork and risk assessments. You can spend up to 15-20 minutes filling out paperwork, which perhaps would be better spent with the patients.
Sometimes just asking the patients how they are can make the biggest difference, and it does not use up any money to just sit on the end of someone's bed and talk to them.
Part of the other problem is the compensation culture that exists. People have always tripped up in hospital or fallen out of bed at times... accidents happen.
But now there's just so much fear and worry over risk and what's going to happen.
Interviews by Dhruti Shah