Diabetes fuels heart failure risk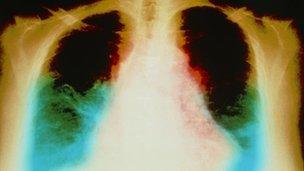 People with diabetes are up to 65% more likely to have heart failure, an analysis has found.
The National Diabetes Audit looked at data on almost two million people and also found increased risk of other complications, and premature death.
The charity Diabetes UK, said people were "dying before their time".
Health Secretary Jeremy Hunt said progress was being made, but there was "unacceptable variation in diabetes care".
The audit, in its eighth year, covered about 85% of people in England with diabetes, and about 54% of those in Wales.
The researchers compared the rates of a range of complications among people with diabetes with those seen in the the same sized group in the general population.
In 2010-11, 45,000 people with the condition had heart failure - where the heart does not pump blood as effectively as it should, when the expected number would have been 27,300.
The most common reason for heart failure is that the muscle has been damaged, for example, after a heart attack.
Heart attacks were 48% more likely - 14,500 people with diabetes suffered this complication in 2010-11 - when 9,800 of such cases would have been expected.
And people with diabetes were also at a significantly increased risk of need an amputation of the foot or leg.
All the complications studied are recognised as being linked to diabetes and therefore more likely to occur in people with the condition.
But the researchers say better preventative care would reduce cases.
Dr Bob Young, of the National Diabetes Information Service who led work on the audit, said: "If everyone achieved the treatment targets that are laid down by the National Institute for Health and Clinical Excellence (NICE), none of the complications would be inevitable.
"There is substantial scope for improvement."
The audit also estimated people with diabetes have a 40% higher risk of death than the general population 65,700 deaths compared with an expected 47,000.
Dr Young added: "Much can be done to reduce these risks if all health care sectors work together with people who have diabetes."
Barbara Young, chief executive of Diabetes UK, said: "We hope this report spurs the NHS into action to improve the current situation where fewer than half of people with diabetes meet the recommended cholesterol levels and a significant minority are not even having it measured."
Prof Peter Weissberg, medical director at the British Heart Foundation, said: "It's essential that, firstly, everyone with diabetes is identified and, secondly, they receive appropriate treatment and advice to help them avoid cardiovascular complications.
"Still more important is the need to prevent diabetes from occurring in the first place by tackling the increasing levels of obesity in our society, particularly in our children."
Health Secretary Jeremy Hunt said: "People with diabetes should be able to expect excellent care from the NHS and they will get it more consistently in future.
"I know there has been progress, but there is still unacceptable variation and we are determined to put that right."
He said the new GP contract would include new measures to help GPs manage the care of people with diabetes better and that local authorities would be given ring-fenced budgets to target problems like obesity which can lead to Type 2 diabetes.
Related Internet Links
The BBC is not responsible for the content of external sites.