Lung disease patients 'left behind in new NHS'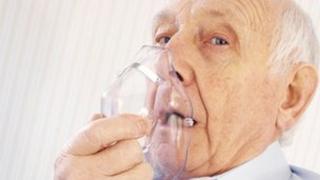 Over 1,000 doctors involved in the care of people with lung disease have expressed "grave concern" about the future of NHS care for their patients.
They have signed a letter to the head of the new NHS Commissioning Board in England, Sir David Nicholson.
It says staff are "disappointed and angry" that efforts to improve care for people with lung disease and asthma might "be left behind in the new NHS".
The Department of Health said it wanted "maximally effective" local services.
As part of the government's changes to the NHS in England, networks of doctors and nurses who organise care for the big killer diseases at a regional level are being restructured.
This is causing particular concern among professionals who look after patients with lung disease, because the 10 regional boards who had driven clinical improvements will no longer have support or funding after next April.
The medical experts say treatment has been transformed in recent years, leading to better organisation of services such as oxygen delivery for patients who need it at home.
The letter says: "The respiratory improvement programme started by the Department of Health just two years ago is starting to make real progress in improving respiratory care, whilst also saving the NHS money.
"Yet the support and funding for all this work is being withdrawn from April 2013, just at the point when patients are about to really benefit.
"We are concerned that patients living with respiratory disease will be left behind in the new NHS."
Heartbreaking
The letter was put together during a conference organised by the British Thoracic Society in London this week.
One of the signatories, Prof Mike Morgan, who works in Leicester, said: "We've very disappointed that this apparatus is being dismantled.
"The government has identified respiratory disease as a priority, but appears to be removing the infrastructure that supports it.
"We've worked hard alongside patients to improve standards of care, and it's heartbreaking to see this work destroyed unnecessarily.
"This lack of supervision of the improvement of care won't work in future if it's left to its own devices."
The British Lung Foundation (BLF) says one in five people in the UK suffer from lung disease.
This includes three million people with Chronic Obstructive Pulmonary Disease (COPD) and four and a half million who have asthma.
'Unintelligible'
The BLF's chief executive, Dr Penny Woods, said: "At the moment, respiratory care in this country lags behind the rest of the developed world.
"Our patients are writing to MPs to express their concerns. We're worried that if these networks aren't continued, the variation in standards of care will get worse."
Neil Churchill, chief executive of Asthma UK, said: "The loss of networks and a coherent improvement programme will make it harder to reduce deaths and improve efficiency for respiratory diseases.
"Given their cost in lives and in pounds, this is simply unintelligible to doctors, nurses and patients. We have just three months to put this right."
A spokesman for the Commissioning Board said: "We fully recognise that respiratory disease is a high priority both for reducing premature mortality and improving long term quality of life.
"We look forward to working with the clinical community and leading respiratory charities on making local services maximally effective."