Funding and staff 'cut' for cancer networks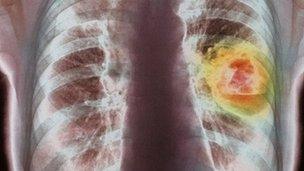 Clinical networks which oversee the care of cancer, heart and stroke patients in the NHS have had their budgets and staff cut, figures show.
Some of the groups say they are postponing projects due to uncertainty from the changes made in England.
The data comes as a result of Freedom Of Information (FOI) questions put to the networks by Labour.
Ministers are confident the networks - set up to improve care and prevention of disease - will continue to do so.
But the shadow care minister, Liz Kendall, claimed the figures showed the networks were "in chaos" and facing "huge uncertainty about their future".
There are currently 28 cancer networks and 28 stroke and heart networks - both areas will be condensed into 12 groups across England after April, with diabetes joining heart and stroke care.
More than 75% of the clinical networks responded to the FOI request.
The cancer teams said funding had been cut by around 25%, and 73 staff had been lost since 2009.
The teams looking after heart and stroke care said their funding had been cut by 12% and 38 posts had gone in the past three years.
Ms Kendall said: "Ministers have repeatedly promised to protect the funding for clinical networks. The government should be working to support these local specialists."
The networks have been credited with improving and streamlining care for patients at a local level, and making their treatment more straightforward if they have to attend several hospitals.
Examples of achievements include reorganising stroke services so fewer patients die, and speeding up X-ray results for faster cancer diagnosis.
In the FOI responses, the networks say programmes they use to support doctors and nurses are already being scaled back - examples given include a chemotherapy nurse post not being replaced and community training programmes in rehabilitation after stroke no longer running.
An oncologist from Yorkshire, where the new network will cover the whole of the Yorkshire and Humber region, said: "I never dreamt that a leviathan such as what is being proposed would be the plan.
"The new network will be too big to be able to reflect local capabilities and needs, yet too small to have the authority of national guidelines."
The NHS Commissioning Board plans to give funding worth £42m to four clinical network areas from April.
They will be cancer, cardiovascular disease, maternity and children's services, and mental health -including dementia. Posts for new clinical directors for different disease areas are due to be advertised next week.
The national director for cancer, Prof Sir Mike Richards, who will be the board's director for reducing premature mortality, acknowledged that cancer networks would have a "smaller proportion" of the networks' budget in the future - and he admitted the coming weeks would be "unsettling and difficult" for staff who might receive notices of their jobs being at risk.
He said: "Everybody recognises that the networks have played a huge part in delivering change. They have been a very important channel between the patients and doctors, and the Department of Health.
"I am confident that in the future the networks will continue to play their important role.
"The fact that the Board is putting £42m into the networks, as against the current £33m, is a good sign of how important we think they are.
"Although cancer networks will have a smaller proportion of the budget in the future, there are still backroom efficiencies that can be made, to make things work more effectively. Increasing the footprint of each network will make them more cost-efficient.
"I do recognise this is a time of maximum uncertainty, particularly with staff being put on notice. The next few weeks will be difficult."
Related Internet Links
The BBC is not responsible for the content of external sites.