Mid-Staffordshire NHS Foundation Trust 'unsustainable'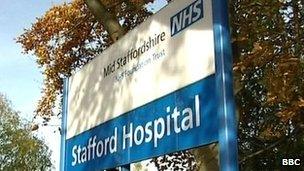 A hospital trust accused of appalling standards of care three years ago is unsustainable in its current form, say independent experts.
The panel, appointed by the regulator Monitor to examine Mid-Staffordshire NHS Foundation Trust, says despite big improvements, the trust cannot continue in its current form.
The trust is struggling financially and clinically and is non-viable, it adds.
The Department of Health has given more than £20m to keep the trust going.
The team of financial advisers, accountants and administrative and legal-service firms says even if the trust achieves challenging annual cost savings, it cannot break even without further long-term funding.
The trust looks after Stafford and Cannock Chase Hospitals.
In 2009, a Healthcare Commission report revealed a higher than expected number of deaths at Stafford Hospital.
Since then, standards have improved and regulators say all essential standards are now being met.
However, there is concern patient services will suffer if the trust continues in its current form.
Stephen Hay, executive director of provider regulation at Monitor, said: "We have always acknowledged that the trust has made significant improvements in clinical standards in recent years.
"However the independent experts have now advised us that they are likely to conclude that the trust cannot sustain itself either financially or clinically in the long term.
"As the team goes on to look at alternative solutions, we at Monitor will work to ensure that local hospital services continue to be available for the benefit of the whole community."
One solution might be to share services with larger, specialist hospitals.
Lyn Hill-Tout, chief executive at Mid-Staffordshire NHS Foundation Trust, said the board agreed with the expert recommendations.
"Mid-Staffs is not financially sustainable in its current form because, despite all the efforts not only of the trust but of the local health service, we do not have a plan which brings us to financial break-even by 2015."
She said similar financial challenges were being faced across the country by smaller general hospitals.
"Like many smaller district general hospitals, our services are not clinically sustainable in their current form. This is because medicine has and will continue to become more specialised, and smaller hospitals cannot attract or resource the specialist teams and infrastructure required to maintain such services."
Related Internet Links
The BBC is not responsible for the content of external sites.