Bowel-cancer screening pilot to begin in England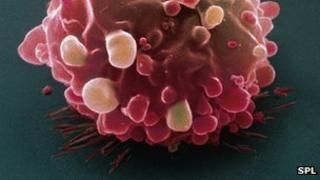 Health Secretary Jeremy Hunt is to announce pilots of a bowel-cancer screening programme that could save 3,000 lives a year.
From March, Norwich, South of Tyne, St Mark's London, Surrey, West Kent and Wolverhampton NHS trusts will offer screening to everyone aged over 55.
The screening involves a thin, bendy tube with a camera attached being placed into the rectum and lower bowel.
Currently, those aged 60-69 in England are offered faecal occult blood tests.
If any blood is found in the faeces, the person will be invited for further tests - usually a colonoscopy, where a thin, flexible tube with a camera is guided along the entire length of the large bowel.
The new screening will invite younger, symptomless patients to have a similar camera check, a flexible sigmoidoscopy, of the lower part of their large bowel to look for any abnormal growths.
Screening in this way allows doctors to remove growths that might otherwise turn in to cancer and treat any cancers already present.
Highly treatable
Mark Flannagan, chief executive of Beating Bowel Cancer, said: "We welcome the government's commitment to the introduction of flexible sigmoidoscopy as part of the prime minister's previous pledge which will give patients greater access to diagnostic tests. This is vital if we are to save lives.
"Over 90% of cases of bowel cancer can be treated successfully if caught in the initial stages, so screening is essential to ensure we give patients the best chance of recovery. Bringing in this test has the potential to save thousands of lives through early detection.
"We look forward to playing our part in ensuring a full programme is rolled out across England as quickly as possible so that many more people across the country can benefit."
About one in 20 people in the UK will develop bowel cancer during their lifetime.
It is the third most common cancer in the UK, and the second leading cause of cancer deaths, with more than 16,000 people dying from it each year.
The plans will be unveiled on Tuesday at the Britain Against Cancer conference, where Mr Hunt is expected to say England has lagged behind other comparable countries in cancer survival league tables for too long.
For some cancer types, survival rates are 10-15% lower in England than in comparable countries such as Australia, Canada and Sweden.