Obesity: NHS approach 'extremely patchy'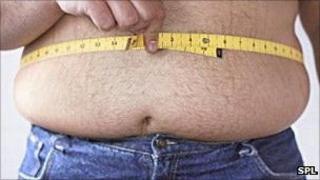 Obesity services across the UK are "extremely patchy" and valuable opportunities to help obese patients are often lost, doctors say.
The Royal College of Physicians said hospitals in particular had "poorly developed" systems in place.
Its report said the problems meant services were often just dealing with the symptoms, such as heart disease or diabetes, rather than the cause.
There needed to be a rethink over how to approach the problem, it added.
The UK is now among the most obese nations in the world.
One in four adults are obese - a figure which is predicted to more than double by 2050.
Wide variations
The report recognised that attempts were being made to stem the tide of obesity through health promotion campaigns.
But it said that should not detract from the fact the NHS had to do more to deal with those patients who were already obese.
The report pointed out there were wide variations in the way obesity was treated across the UK - particularly in the frequency with which obesity surgery is performed.
It said there needed to be a much more "joined up" approach between hospitals and community services.
To help hospitals should also appoint a doctor to lead on obesity, it added.
Prof John Wass, from the RCP, said: "'Britain is getting bigger and whilst we try to prevent the increase in obesity, we must also prepare the NHS for the influx of patients presenting with severe complex obesity.
"A patient may arrive at my hospital with coronary heart disease, but if the root cause of their condition is obesity, we must be equipped to deal with that root cause."
Working together
Prof Lindsey Davies, president of the Faculty of Public Health, welcomed the recommendations and said she agreed greater coordination was needed.
"The only way we will ever tackle the problems caused by obesity is by everyone working together," she added.
But she also urged the government to be more proactive by addressing some of the wider determinants of obesity.
"Obesity is not only caused by how much we each eat or drink: if tackling it were as simple as telling people to eat less and move more, we would have solved it by now.
"Our chances of being obese are also affected by factors like whether we have easy access to affordable fruit, veg and other healthy foods, and if it safe to let our kids play outside."
A Department of Health spokesman acknowledged the medical profession had a "key role to play".
He added: "We are committed to tackling obesity and are taking action to help people keep a healthy weight and prevent them needing hospital care for obesity related conditions."