Winter vomiting cases at 1.1 million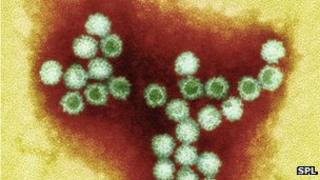 Cases of the winter vomiting bug norovirus have exceeded 1.1 million, figures for England and Wales suggest.
Reported infections dipped over the festive break, but further cases are expected in the next few weeks.
The Health Protection Agency said there were 3,877 lab-confirmed cases up to 30 December - but for each confirmed case there are another 288 infections which go unreported.
The figure is 72% higher than at the same point last year.
Norovirus can be spread through contact with contaminated surfaces or objects, by contact with an infected person, or by the consumption of contaminated food or water.
John Harris, from the Health Protection Agency, said: "As we have seen in previous years there has been a dip in the number of confirmed laboratory reports owing to the Christmas and New Year period.
"However, in line with other norovirus seasons we will expect to see an increase in the number of laboratory reports in the next few weeks.
"If you think you may have the illness then it is important to maintain good hand hygiene to help prevent it spreading.
"We also advise that people stay away from hospitals, schools and care homes as these environments are particularly prone to outbreaks."
In the last two weeks of 2012 there were 29 hospital outbreaks compared to 70 in the previous fortnight.
Norovirus cases have appeared much earlier than usual this winter - cases normally occur after Christmas. It is not clear why, but the same pattern has been seen across Europe.
The Department of Health in England said 2.4% of beds were closed in the NHS due to norovirus symptoms compared with a peak of 2.9% last year.
A spokesperson said: "The NHS is well prepared for the winter. No A&Es have had to close so far this winter and we are providing additional funding to the NHS to help it cope with the added pressure that the winter brings."