Cameron: Long way to go on NHS care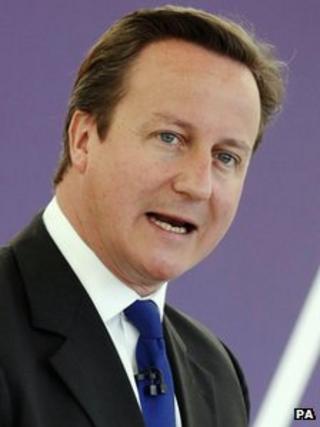 David Cameron says there is still a "long way to go" to raise standards of care in the NHS in England.
The prime minister's concession comes after a series of critical reports and ahead of the findings of a public inquiry into care at Stafford Hospital.
Mr Cameron said he wanted to make improving care one of his top priorities for 2013.
But he insisted progress was being made, pointing to initiatives that were being rolled out.
He highlighted a new "friends and family" test starting in April and the extra ward rounds being put in place.
The "friends and family" test, which has already been announced, involves all hospital patients being asked whether they would recommend the place they were treated in.
Mr Cameron described it as a "flashing light" to alert hospitals if fewer people started replying positively to the test.
"Of course this is a complicated issue and there's no one single answer. We have an excellent NHS, with very high standards of nursing care in most of our hospitals, but recent examples - Stafford, Redditch, others - have shown that we have got a problem in some places."
The test has been based on customer surveys some of the most successful companies, such as Apple, have used in recent years.
In time it will be rolled out to other parts of the health service, including GP surgeries, district nursing and community hospitals.
Chairwoman of the Royal College of GPs Clare Gerada said feedback was important, but questioned whether friends and family were proper judges of the NHS in all its complexity.
"The NHS isn't Facebook, and healthcare isn't a commodity like eating in a restaurant. And we must make sure that we don't confuse issues around the NHS such as shortages, with actually the care that patients get from the staff that look after them," she said.
'Best possible care'
Mr Cameron said the initiative was part of a drive to improve care standards in 2013, which also involved a focus on dementia, extra training for staff and more nursing rounds, which are now in place in nine out of 10 hospitals.
An extra £13m will be spent on training health care assistants and a £50m fund will be used to train all NHS and social care staff in care for dementia patients.
The prime minister said: "We still have a long way to go to raise standards across the NHS and get rid of those cases of poor and completely unacceptable care that blight some hospitals and homes.
"I want every hospital to give every patient the best possible care."
But he also praised the "incredible job" he said he knew many nurses were doing.
"We shouldn't underestimate the pressure the nurses are under. One in four beds now are filled with people with dementia. That's a huge change that's taken place in our country and our health service, so we need much more training to deal with people with dementia.
"So I don't underestimate the pressure nurses are under, and the difficulties of doing their job, but we do need a greater emphasis on standards of care and compassion in our hospitals and care homes," he told BBC 5 live.
His intervention comes after both the Care Quality Commission and Patients Association published reports towards the end of last year raising concerns about the quality of care.
Dignity and respect
The CQC warned its inspections were showing that services were struggling in areas such as dignity and respect, nutrition, care and welfare.
Meanwhile, the Patients Association published a dossier of 13 "appalling" cases of care given to NHS patients to highlight what it said was a wider malaise.
The Francis Inquiry into the hundreds of "needless deaths" at Stafford Hospital between 2005 and 2008 is likely to add to these criticisms when it is published in the coming weeks.
Katherine Murphy, of the Patients Association, said she agreed there was still much to do to improve care, but she said the "friends and family" test was too simplified to drive improvements.
Peter Carter, general secretary of the Royal College of Nursing, welcomed the new test, but said it was also important to keep supporting nurses, through training and resources, so they could keep doing their jobs to the best of their ability.
"Providing the best quality care for patients has always been at the heart of nursing," he added.
Shadow health secretary Andy Burnham said: "If David Cameron really wants to give patients the best care, he should step in to support the NHS front-line, stop the job losses and ensure that every hospital in England has safe staffing levels."