Meningitis B vaccine gets European licence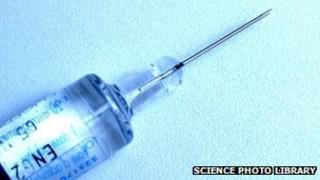 A vaccine to protect children against one of the most common and deadly forms of meningitis has been licensed for use in Europe.
The Bexsero vaccine licensed by the European Commission is the first to cover meningococcal B meningitis - until now vaccines had protected against only some of the bacterial types involved.
About 1,870 people contract meningitis B each year and one in 10 die.
The UK is yet to roll out the jab.
The Joint Committee on Vaccination and Immunisation (JCVI) which provides vaccination advice to the government plan to meet in June when they will discuss the vaccine and whether to add it to the list of vaccines routinely offered to young children.
Meningitis UK said: "We urge the JCVI and UK government to introduce the new MenB vaccine to the childhood immunisation schedule as soon as possible. Every day of unnecessary delay in introducing this vaccine will cost lives. We must not allow children to die from this disease if it can be prevented."
Now it is licensed in the UK and other EC countries, it could potentially be bought and used by healthcare providers.
About a quarter of all survivors of meningitis B are left with life altering after-effects, such as brain damage or limb loss.
Children under the age of five are the most at risk from the bacterial infection, which leads to inflammation of the brain and spinal cord.
Experts say the jab is likely to be effective against 73% of the different variations of meningitis B.
A vaccine against the less common meningitis C has been administered since 1999 and is now widely given to babies in the first year of their life.
It has led to a large fall in the number of cases in people under the age of 20.