Monday mornings are A&E 'rush hour'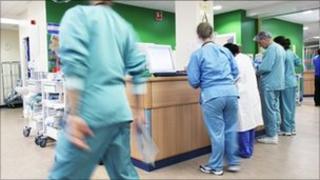 The busiest time in accident and emergency departments in England is Monday morning, hospital data shows.
There are 4,000 cases every hour between 10am and noon on Monday - twice the average.
Late morning was the busiest time of day throughout the week but Monday came out on top, figures from the Health and Social Care Information Centre show.
There were 17.6 million A&E visits in 2011-12, up from 16.2 million in the previous year.
The chief executive of the Health and Social Care Information Centre, Tim Straughan, said: "It is well-known of course that accident and emergency departments are very busy places.
"The fact that A&E services in England on average see twice the average number of new cases coming through the door collectively on a typical Monday morning indicates just how much society relies on these front line services."
Dr Clifford Mann from the College of Emergency Medicine said: "As it is implausible that there is an acute deterioration in population health on each and every Monday morning the message inherent in these figures is a lack of primary care capacity.
"This in turn reflects the fact that there is a significant spill over effect from the weekend - again because of a lack of primary care provision."