John Hartson testicular cancer story prompts vital check-up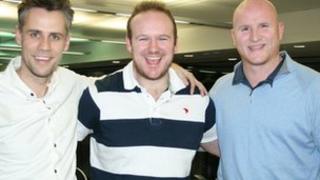 When Ben Pilling first heard former Wales striker John Hartson speaking about his experiences with testicular cancer, he was spurred on to check himself out.
Mr Pilling listened to Mr Hartson on the Daily Bacon, a BBC Radio 5 live podcast of the Richard Bacon show.
Mr Hartson told the show by the time he had spoken to doctors about the lumps he had found on his testicles, his cancer had spread to his lungs and brain.
A few months after hearing this story, Mr Pilling found a small cancerous lump and was encouraged to seek vital help quickly.
In the BBC Radio 5 live programme, broadcast in 2011, Mr Hartson recounted how he had dealt with the disease and spoke about his recovery.
He returned to the programme with Mr Pilling in January 2013 to discuss their experiences of the cancer.
The footballer, who is now assistant manager of the Welsh Football Association, said he had waited four years before asking doctors to check the two lumps he had found.
He said: "I didn't know any of the signs or symptoms.
"I was fathering kids. I was scoring goals. I was moving from club to club.
"But I had lumps on my testicles. I wasn't aware that the cancer at that particular time was spreading slowly."
He told listeners it had started with small nut-sized lumps on the outside of his testicles.
But it wasn't until he had stated getting intolerable headaches that he had gone to his GP, he said.
"My message to anyone who feels lumps down there is do as I say not as I did," Mr Hartson said.
"If they do feel any lumps, it is imperative that they go and get checked because I didn't and it nearly cost me my life."
Mr Pilling listened to the podcast in July 2012 and began checking his testicles every week.
At the end of August, he noticed a small lump.
"I come from a generation where we have heard all these messages and I knew that you should check yourself, but I wasn't in the habit of doing it.
"It was listening to the message again that made me really think."
When he had first found the lump he had not been sure if it was real, he said.
"What I first found was tiny, like a spot on your face and you think it is massive, but you look in the mirror and you realise it is tiny," he said.
"At that point I was doubting myself. Was I imagining something?"
'Big word'
He was working abroad when he made the discovery but booked an appointment to see his doctor as soon as he returned.
He was offered the next routine appointment, which was three weeks away, but insisted on an emergency slot the next day.
Dr Michael Leahy, a consultant oncologist at the Christie Hospital in Manchester, also took part in the recent Richard Bacon show.
He said if Mr Pilling had taken the later appointment, this could have been dangerous as there was a potential for these tumours to grow rapidly.
Mr Pilling said: "Cancer might only be six letters but it is a really big word.
"What I didn't understand is that if you catch it early, you can sort it."
He has had two operations, and will have regular medical checks for the next five years.
'Look for change'
Dr Leahy said it was not unusual for the people he met in clinic to have been unaware of the signs of testicular cancer.
"Don't be embarrassed to go and see a doctor. If there is any change there go and get it checked out," he says.
He recommends that men check their testicles in the shower.
It should feel like a smooth egg-shaped organ with the consistency of a grape or a plum, and the most important thing to look for was a change in what you would consider normal - a new lump or growth, he said.
Mr Hartson said it was important people were not too frightened to seek help.
"It might be a cyst, it might be a boil, but it is imperative you get checked straight away so you are not allowing the problem to spread," he said.
The footballer has been in remission for five years and goes back to hospital for annual checks.
"But cancer could come back tomorrow," he said.
He wishes he had seen his doctors much sooner.
"If I had gone straight away, I would have avoided all that time in the hospital, all the trauma.
"My family thought I wouldn't make it."