CQC whistle-blower: 'I am tainted because I spoke up'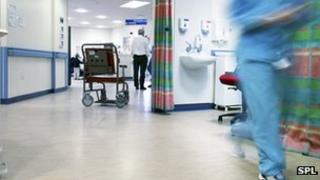 The public inquiry into the Stafford Hospital failings will publish its findings on Wednesday.
One of the key issues that has emerged from the scandal is the need for the NHS to do more to allow people to blow the whistle on problems early on.
A member of the NHS regulator's board recounts her experiences.
Being a whistle-blower is not easy, says Kay Sheldon.
In fact she feels she is regarded as "tainted" after giving evidence to the public inquiry - and predicts she will not be reappointed to the board of the Care Quality Commission later this year.
She believes poor care in the NHS "goes unchallenged" because people risk being victimised if they speak up.
Mrs Sheldon says past mental health problems were "used against her" after she gave evidence to the inquiry chaired by Robert Francis.
Tom Kark QC, the counsel to the inquiry, said in his summing up that it was "truly surprising" that there was evidence from "not one but three" whistle-blowers at the CQC, and "fear was on each occasion palpable" at the hearing.
Mrs Sheldon told the inquiry in November 2011 that the CQC board was sidelined and did not have a strategic direction.
She said: "I didn't think of myself as a whistle-blower. I was just trying to do my job properly, and act with honesty and integrity.
"If you speak up or voice concerns - whether you're a member of staff or a patient - the chances of being ignored, sidelined or even victimised are quite high.
"As a result, poor or dangerous care can go for months or years without challenge.
"Most of the time the NHS provides good care. But when it goes wrong, there's a defensive culture.
"I've come across examples of similar situations to Mid Staffs [the trust which runs Stafford Hospital], where there were known problems and families tried to speak out but they were suppressed.
"From what I've heard and seen, it's very likely hundreds, even thousands, of people have experienced harm they shouldn't have done - including loss of life.
"The issues of high mortality rates were well known as far back as 2009 but they weren't tackled.
"Problems at the NHS trust in Morecambe Bay, for example, were known about, but carried on for a number of years.
"It's left me reeling, but I feel I need to speak about it because it's indicative of a prevalent culture in the NHS."
'Paranoid schizophrenia'
The culture of the NHS and protection for whistle-blowers are among the many themes Robert Francis is expected to tackle in his long-awaited report tomorrow into the failings at Stafford Hospital, where there were at least 400 more deaths than expected over a three-year period.
Mrs Sheldon said: "It was a very hard decision to give evidence. I'd tried to raise the issues internally and with the Department of Health.
"But all I got was either denial or a sense that I was the problem.
"I was asked not to attend any further board meetings. I declined that request - but the meetings were very difficult."
Her request for support led to a 10-minute phone conversation with an independent occupational health provider.
Six months later, she uncovered a three-page letter - resulting from this conversation - which raised serious questions about her mental health and suggested she might have paranoid schizophrenia.
Mrs Sheldon, who is open about having a history of depression, said: "I was profoundly shocked. I was certainly under stress but I'd undertaken other roles, such as sitting on tribunals, without any problems.
"CQC is an organisation that is there to protect people but I was being excluded and having my past mental health problems used against me.
"I'd spoken to staff at CQC and many families from Mid Staffs and other places who felt their concerns had not been taken seriously, and problems had gone on for far too long.
"My reputation was at stake because on the day I gave evidence, my board colleagues publicly refuted it.
'No regrets'
"Even though Andrew Lansley confirmed I would continue on the board, I've had quite a strong indication that I won't be able to continue when my appointment comes up for renewal later this year.
"I'm tainted because I spoke up. I don't regret it at all though. I'm now even more sure I did the right thing."
A Department of Health spokesperson said: "We are committed to ensuring that CQC has a strong and effective board. A new chair has been appointed and Kay Sheldon is on the board.
"The previous secretary of state considered carefully Ms Sheldon's position and decided that she should remain as part of the board.
"Any decisions regarding future appointments or reappointments will be considered in line with guidance on public appointments at the right time.
"We are committed to protecting whistle-blowers - that is precisely why we have set up a free helpline so NHS staff can get advice on how to raise concerns."
A CQC spokesperson said: "The CQC is determined to be a well governed organisation which is open and transparent. It will rapidly build capacity and capability to regulate the health and adult social care sector more effectively.
"We will comment on specific issues and the findings of the Francis report after publication on Wednesday."