Families plan legal action over care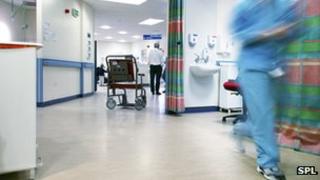 Eighteen families are planning legal action against two NHS hospital trusts, saying their relatives suffered neglect and poor standards of care.
They were treated at the Queen's Hospital in Romford, Essex, and the Eastbourne District Hospital in East Sussex.
The action is being taken on the grounds their care was so poor it breached the Human Rights Act.
Both hospitals said services were improving.
Emma Jones, a senior human rights lawyer with the legal firm Leigh, Day and Co, which represents all 18 clients, told the BBC: "We are talking about people who've been left without hydration, who haven't been given food, whose medication has been missed.
"There are many care issues and we're talking about people that are often quite elderly, they are vulnerable.
"I can understand completely why relatives of their loved ones would believe that such poor treatment and care might have contributed to their loved one's death."
Four of the families have already submitted claims.
Stafford
Ms Jones represented 119 families over the Mid-Staffordshire scandal - where standards were described by a public inquiry as "truly shocking".
The inquiry led by Robert Francis QC criticised "every single level" of the health service.
Mr Francis said the scandal, in which at least 400 patients may have died unnecessarily, was not an event of "such rarity or improbability that it would be safe to assume that it will not be repeated".
Following the report, the Department of Health announced a separate investigation into the apparently excessive mortality rates of five other hospital trusts.
Dignity
Maria Lloyd is from one of nine families that are taking legal action against Queen's Hospital in Romford. She claims her father, Ronald Roast, suffered from appalling standards of care at Queen's in the days leading up to his death from lung cancer at the age of 69.
Mr Roast spent four days at the hospital in October 2011 before he was transferred to a hospice. Maria Lloyd and her mother, Dot Roast, believe Mr Roast experienced unnecessary suffering at the hospital - denied both nutrition and dignity.
Mrs Lloyd said: "At the end of the day, if you go into the hospital, you expect to be treated with respect and dignity. I thought we had gone back to the 1800s. It's not the sort of care you expect in this time."
Mrs Lloyd said her father had not been washed or taken to the lavatory for the duration of his stay and complained that nurses had failed to give him the necessary hydration and antibiotics for 12 hours.
"We kept asking when his drip is going to be put back in because it was his fluids and antibiotics and they said they couldn't do it because they couldn't find the vein and that a doctor would have to do it eventually. I felt that because he was dying, they didn't really care."
Care standards at Queen's were severely criticised in a report by the Care Quality Commission in October 2011.
A spokesman for the Barking, Havering and Redbridge University Hospitals Trust, which is responsible for the hospital, said: "It is totally unacceptable that any patient should experience poor nursing care.
"The Trust was subject to a Care Quality Commission investigation in 2011, and we know that people were not being given the high quality care that they deserved. Whilst we have made improvements, we recognise that more needs to be done."
A claim is also being made on behalf of Patricia Tilbury, who died aged from cancer, aged 85, at Eastbourne Hospital in November 2011.
Her sons, Steve and Robin Tilbury, believe she received abysmal standards of care, including poor communication by doctors, one of whom spoke English that was hard to understand, and deprivation of the nutrition she needed in her last days.
Robin Tilbury said: "It's unfortunate for us in as much as my mother had been a general practice manager for a doctors' surgery for a number of years so we've always been very supportive of the health service. So the experience she had in hospital was particularly distressing."
A spokesman for the trust responsible for the hospital, the East Sussex Healthcare NHS Trust, said: "The trust takes any claim or complaint seriously and ensures that each one is investigated and the learning from the investigation is shared across the whole organisation so services can be continuously improved.
"We continue to strive to improve outcomes and experience for our patients by listening to what they tell us and acting on it.
"In addition we monitor our services against a number of quality indicators and take immediate action if these raise any concerns. We are pleased that this has resulted in on-going improvements in our performance and this is reflected in the comments made by our patients and our regulators."