The children facing a lifetime of surgery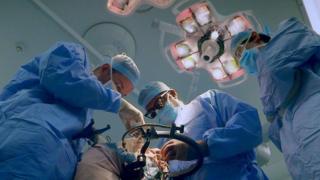 Each year a team of surgeons at Oxford's John Radcliffe Hospital carries out almost 4,500 operations related to the brain. Many of the patients are children - some of whom face a life of surgery.
"Whenever you do something to these kids who have such a complex set-up, you're never quite sure of the repercussions," says consultant Jay Jayamohan.
"It's a bit like this idea of butterflies wafting in South America and causing hurricanes elsewhere."
Mr Jayamohan is a senior paediatric neurosurgeon at the hospital. He has dealt with the brains and spines of thousands of children and has seen medical advances transform their life chances.
Some would not have survived in the past and, as they get older, they can face complications.
The repeated operations and hospital stays they can expect are not easy for the children, or their families.
'Might not survive'
Among the parents that are likely to be making many trips to the hospital are Nicola and Stephen, who have been told that the baby boy they are expecting has spina bifida.
"When we went for our 20 week scan... the lady who was scanning, she was just really silent the whole time, and then she kept saying 'I'm going to have to get my colleagues'... Its one of those moments when you just think 'Oh my God'."
Mr Jayamohan explains that the baby is likely to have "problems with legs, with balance, with walking, and I suspect they'll be on the more severe end".
Nicola and Stephen decide to keep the baby, although they understand that they are likely to be caring for him throughout his life.
"The lady at the hospital told me that the baby might not survive birth and I think just something triggered inside me that something like that could happen," says Stephen.
"He deserves a chance. It's going to be hard, but life is hard."
First operation
The baby's spina bifida means that not all of his spine has closed properly, leaving a large sac of tissue growing from his back, which is vulnerable to damage and possible infections, including meningitis. It is also suspected that he has a club foot.
A natural birth poses too great a risk of damage - so Nicola has a Caesarean section. The boy, called Jenson, weighs 7lbs.
The next morning he faces surgery and will be the first of three patients Mr Jayamohan must operate on that day - with each procedure likely to last up to six hours.
The fatty tissue of Jenson's spina bifida sac needs to be removed and the exposed nerves of his spinal cord put back into place inside the body - without further damaging his mobility.
Mr Jayamohan covers the nerves with as much skin and muscle as possible to act as protection, as there are no vertebrae at the base of Jenson's spine to encase it.
The sac is successfully removed and he is pleased with the results, but it is not likely to be the last time that he sees the newborn.
"This is the first part of a long, long family of operations that he's going to need. He's going to be with me until he's 18," says Mr Jayamohan.
"He's likely to need more surgery. He's likely to need regular follow ups and scans and stuff. So its quite a long process for him, and for us."
'Harder for the kids'
Among the children who have had to make repeated visits to the hospital is Jack, now 19, who has Crouzon Syndrome - causing his skull to fuse too early and damaging his brain.
He has had 27 operations and spent much of his childhood in hospital.
Jack is back in hospital because he needs more space at the back of his skull, so that the cerebrospinal fluid that surrounds his brain can flow freely.
Having treated Jack for nine years, Mr Jayamohan is concerned about the complexity of the operation.
Abnormal blood vessels - which drain the brain - are coming through Jack's skull and must not be damaged, as he could suffer a stroke.
"Last time was so difficult and I really didn't want to go back in again, but he's... getting worse progressively, where at the end it may be a point where he starts to lose the ability to stand, to walk, to use his hands and then maybe to swallow and then he's really stuffed."
The operation goes well, but it later becomes clear that Jack is in pain and that the wound from the procedure is not healing.
The decision is taken to put in a drain to relieve the pressure of excess fluid in his brain.
The registrar carrying out this operation, Tim Lawrence, explains that every operation carries a "huge risk", including the possibility of seizures.
"It's a decision that you think very carefully about and the aim is always to try and make him better," he says.
"It's quite difficult to justify those decisions all the time... And its even harder for the kids."
'No discharge'
As Jack recovers, his mother, Karen, says that although they are used to the hospital visits it remains difficult to see him suffer.
"It's mentally exhausting rather than physically exhausting... I cry at night when I'm alone," she says.
By the time his latest stay in hospital comes to an end he will have been there for 11 weeks.
Mr Jayamohan knows that he will be caring for Jack again.
"I know that he'll be under our care... until we retire. I can't imagine we're going to be discharging him. Ever."
Even off duty the problems faced by his patients - and the duty of care he feels towards them - often occupy his thoughts.
It is not something that goes unnoticed.
"My wife always says that patients come first and in a funny way I guess they do, but not because I don't love my family completely - its because if anything happens to one of my patients, I need to be there to help them."
Brain Doctors is shown on BBC Two at 21:00 GMT on Wednesday, 13 February.