Child hospital stays 'keep rising'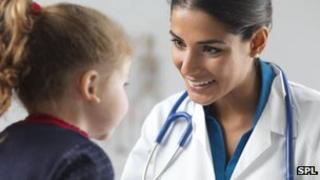 The number of children being admitted to hospital each year in England has increased over the past decade, according to researchers.
A report in Archives of Disease in Childhood showed 739,000 children under 15 were admitted in 2010, up from 594,000 in 1999.
The greatest increase was in children under five years of age.
Experts said the strain of growing demand could lead to standards dropping.
There has been a surge in births in the UK, but even accounting for the growing numbers of children there was still a 28% increase in the admissions rate between 1999 and 2010.
Admissions in children under 12 months increased by 52% and the rate increased by 25% in those aged between one and four.
The researchers said possible explanations included:
changing behaviour of parents
a lack of out-of-hours GPs
NHS direct recommending parents take their child to hospital
hospitals admitting children in order to avoid breaking the four-hour A&E waiting times
doctors being more cautious and admitting more patients
The study showed much of the rise was caused by "common infections" that required very short hospital stays.
One of the report's authors, Peter Gill, from the department of primary care health services at the University of Oxford, said these cases should be the "bread and butter" of community care and admissions put pressure on hospital services and carried the risk of hospital-acquired infections.
"The system is not coping well with these illnesses," he said.
Dr Hilary Cass, president of the Royal College of Paediatrics and Child Health, said: "These latest statistics further serve to highlight that the way hospital services are currently arranged means we're in danger of not providing children with the highest possible standard of healthcare when they fall ill.
"The health service is coming under increasing pressure and demand, so it's more important than ever that we look to settings outside of the hospital to address this."
She said more services needed to be offered outside of hospitals, with paediatricians working more closely with GPs.