Unhealthy Britain: nation's five big killers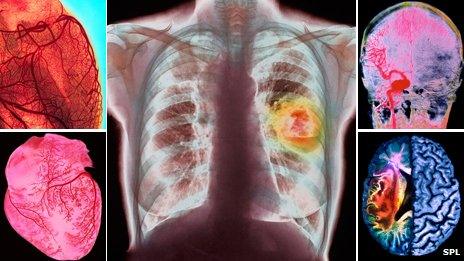 The UK needs a "call to action" to tackle ill health says England Health Secretary Jeremy Hunt after a major study has found that Britain has fallen behind many Western countries on progress in managing preventable diseases.
Five big killers - heart disease, stroke, cancer, lung and liver disease - account for more than 150,000 deaths a year among under-75s in England alone and the Department of Health estimates 30,000 of these are entirely avoidable.
Coronary Heart Disease is the biggest killer, causing almost 74,000 deaths each year in the UK. That's about 200 people dying every day.
More than a quarter of the deaths occur in people who are younger than 75 and experts say the majority are preventable.
Smoking, being overweight and having high blood pressure are all risk factors.
About one in three adults in England and Scotland have high blood pressure and nearly half of them are not receiving treatment for the condition, says the British Heart Foundation.
Mr Hunt says all people between 40 and 74 should be offered a health check once every five years to look for things like high blood pressure.
Between April 2011 and March 2012 only 2% of those eligible in England actually had a health check. Out of nearly 16 million people eligible, about 425,000 were offered a check and 211,000 took up the offer.
England has one of the highest rates of asthma prevalence in the world. Figures from GP registers in 2008 suggested that about 6% of the English population has asthma.
And more than three million people in England are living with COPD. This lung disease kills about 23,000 people a year in the UK.
The most important cause of COPD is smoking, but about 15% of cases are work-related, triggered by exposure to fumes, chemicals and dusts at work.
Premature deaths from COPD in the UK was almost twice as high as the European average in 2008 and premature mortality for asthma was more than 1.5 times higher.
To close this gap, Mr Hunt wants to cut smoking rates and improve the care people with COPD receive, focusing on early identification, diagnosis and intervention.
The disease is one of the most common causes of emergency admission to hospital and is expensive in terms of acute hospital care. It costs nearly 10 times more to treat severe COPD than the mild disease.
Stroke is the third leading cause of death in England each year and the leading cause of disability. More than 150,000 people have a stroke every year in the UK but, according to The Stroke Association, up to 10,000 of these could be prevented if more people were aware of the symptoms and sought out emergency treatment.
Symptoms can include facial weakness, speech problems and pins and needles down one side of the body.
Mr Hunt says a major challenge is getting all parts of the country to meet the performance levels of the best. For example, if all patients suffering from a mini stroke (transient ischaemic attack or TIA) were treated as rapidly as those treated in the top 25% of hospitals, 540 strokes would be avoided each year, which in turn would save the NHS £4.5m a year.
The illness has become so common that today one in 30 people living in the UK either has cancer or is in remission. By 2030 it is estimated that three million people in England will have had some form of cancer.
Survival rates are improving in the UK.
Inroads have been made in improving outcomes for some of the most common cancers.
But the UK still lags behind other European countries in terms of cancer survival.
Cancer Research UK says part of the problem is unhealthy lifestyles. It is estimated that about a third of cancers are caused by smoking, diet, alcohol and obesity.
And many cancers are detected too late. Although there are national screening programmes for certain cancers, like breast and cervical, public awareness of symptoms and the need to seek help early is still too low.
Another issue is access to treatment. Waiting times to see a doctor for speedy diagnosis and treatment have come down. But the provision of certain types of cancer investigations and treatments across the UK is variable and some groups of society, like the very old, can miss out.
The Chief Medical Officer of England, Prof Dame Sally Davies, highlighted liver disease as an issue in her annual report.
It is the only major cause of mortality and morbidity that is on the increase in England while it is decreasing among European peers.
Between 2000 and 2009, deaths from chronic liver disease and cirrhosis in the under 65s in England increased by about 20% while they fell by the same amount in most EU countries. And all three major causes of liver disease - obesity, undiagnosed infection, and, increasingly, harmful drinking - are preventable.
More than a third of men and over a quarter of women regularly exceed the government recommended level of alcohol intake - three to four units of alcohol a day for men and two to three units for women.
The government in England is currently considering whether to set a minimum unit price for alcohol to deter problem drinking and cut alcohol-related illness.
Dame Sally called for investment in prevention, early diagnosis and effective treatment.
Related Internet Links
The BBC is not responsible for the content of external sites.