Big Brother-style study to discover how flu transmitted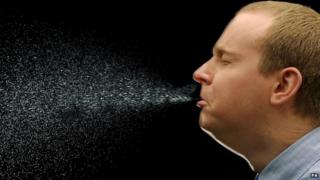 Being locked up in a clinical unit in Cambridgeshire for up to a fortnight and exposed to the flu virus is probably not most people's idea of a winter break.
But 41 volunteers have been doing just that, in a medical version of Big Brother, to help establish how flu is transmitted between people.
"It's extraordinary that it's not been done before," says Prof Jonathan Van-Tam, of Nottingham University's School of Community Health Sciences. He is overseeing the research, which is part of a £7.2m study.
"To put it crudely, we're interested in whether it's the big bits that fly out when you cough and sneeze - we call those large droplets - or the tiny bits - which are referred to as aerosols - which are important in transmission," Prof Van-Tam told BBC World Service.
"The only way we could do this was to actually have people people with real flu and put them in a position where they can infect others and we can then study how that happens."
He says the results will help governments and bodies like the World Health Organization decide what protection healthcare workers should be given during flu outbreaks.
Four days together
The volunteers went into the unit on 4 March and underwent a series of tests. Then 21 of them, known as donors, were chosen to be infected with a common, but mild seasonal strain of influenza, called A(H3N2).
Eleven more, known as recipients, were given face shields to stop large droplets, but not aerosols and hand gel to prevent infection through contact. Ten other recipients were given no protection at all.
Groups of infectious donors and recipients then had to spend 15 hours a day together for four days in common rooms, which were kept at 20C (68F), where they were constantly monitored.
At night the donors and recipients were kept apart. Recipients with flu symptoms were also separated from those without. The recipients are now being monitored until they leave on 17 March.
"One lot of recipients could only be infected via the aerosol route, while the other recipients could be infected through the contact, aerosol or the droplet route. We can compare the two groups and get an idea of how important aerosol transmission is," Prof Van-Tam says.
The volunteers, who had to be aged between 18 and 45 and fit and well, were paid more than £1,000.
One of them, a 31-year-old firefighter, who asked the BBC to call her Chloe to avoid identification, said: "It was a bit like Big Brother for the four days in the exposure period in the common room because you know you're being watched all the time."
The staff wear respirators and protective clothing to avoid infection.
Exercise ban
"If you want to go for a bathroom break a member of staff takes you to control exactly who has contact with who," Chloe says.
Alcohol, smoking and strenuous exercise were banned to prevent the results being affected. Chloe says they have spent their time chatting, reading, playing games, watching TV and films and that, unlike in Big Brother, everyone has got on well.
"For the four days I had to wear the face shield, which is like a thin, plastic welder's mask. It's very lightweight and pretty comfortable. After a while, though, I thought, I just want to take this off."
They were allowed to take them off for meals and at night.
"Every 15 minutes we had to alcohol gel our hands and every couple of hours we had to thoroughly wash them.
"We're weren't allowed to touch our faces. So if we got an itch we had to use a little lollipop stick," Chloe says.
Prof Ron Eccles, director of the Common Cold Centre at Cardiff University, said flu transmission was an important, but difficult area of study.
He said the results would have to be interpreted very carefully and the type of virus and environment would be important factors.
"People infected in the lab may not respond in the same way as people in the real world. The symptoms could be worse in the real world and the behaviour of people could be different," he said.
Prof Van-Tam says there will be two more trials in the coming months. All three are being funded by the US government and carried out in collaboration with partners in the UK, US, Australia and Canada.
He says the results will be applicable to bird and swine flu in humans and help decide whether healthcare workers should wear a surgical face mask - the equivalent of the shields - or a respirator when dealing with infected patients. "It's a difference of pennies for a mask against pounds for a respirator," he said.
Prof Van-Tam and Chloe spoke to World Update on the BBC World Service