Breast cancer trials 'failing to save younger patients'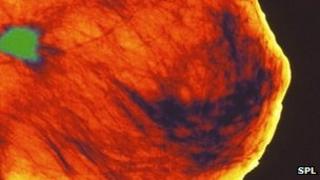 A lack of clinical trials aimed at younger breast cancer patients could be partly to blame for longer-term survival problems, experts believe.
The study, funded by Cancer Research UK and the Wessex Cancer Trust, analysed nearly 3,000 women under 40 in the UK with diagnosed breast cancer.
It found a rapid rise in relapse after five years in younger patients with a certain type of the cancer.
This contrasts with what normally happens with the disease.
The data, published in the Journal of the National Cancer Institute, showed that survival five years after diagnosis was 85%. By the eight-year mark it was 68%.
Breast cancer is mostly diagnosed in post-menopausal women, although those with a diagnosis under 40 represent fewer than 5% of all breast cancers treated in the UK.
The study looked at cases involving oestrogen-receptor-positive disease, whose cancers are fuelled by the female hormone oestrogen.
Underlying problem
This form of the disease is usually treated by chemotherapy followed by the drug tamoxifen for five years to block oestrogen receptors.
Researchers suggested that taking tamoxifen for a longer period may help, but they said the underlying problem was that trials needed to involve more younger patients.
Chief investigator Prof Dianna Eccles said: "This study adds to the evidence that breast cancer can behave very differently when diagnosed in younger women.
"They may require a different approach to treatment, which isn't necessarily understood from cancer trials in older patients."
Kate Law, Cancer Research UK's director of clinical research, said: "Although in general breast cancer survival has improved dramatically in recent decades, with women now twice as likely to survive their disease for at least 10 years compared to those diagnosed in the 1970s, the same can't be said for younger breast cancer patients."