Adverts warn of passive smoking risk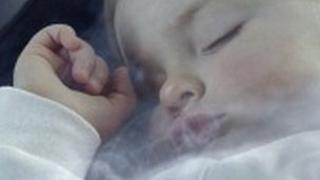 Smokers are being reminded of the dangers of second-hand smoke in a government advertising campaign.
The TV and online adverts in England will outline the risk to children of people lighting up in cars and homes.
Chief medical officer Professor Dame Sally Davies said too many people were still unaware of the risks.
Research suggests the effects of passive smoking on children costs the NHS £23m a year by causing 300,000 GP visits and 9,500 hospital admissions.
Most of those patients were suffering from breathing-related problems although smoke was also blamed for diseases of the ear and other illnesses.
But a survey by Public Health England - the government body responsible for encouraging healthy lifestyles - found three-quarters of smoking parents were shocked by the statistics.
Dame Sally said: "It's well known that smoking kills, but many smokers still don't realise the damage their smoke causes to those around them.
"Our message is clear: giving up smoking is by far the best way to protect your family and we can help you quit to give you and your loved ones a healthier future."
Dr Harpal Kumar, of Cancer Research UK, added: "The evidence is clear. Smoking around children is harmful, especially in homes and cars, so it's vital they are protected from the dangers of second-hand smoke."
The adverts, which are a re-run of the campaign held last year, will be shown from Wednesday.