NICE says NHS must curb hospital falls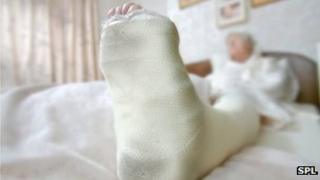 The NHS needs to do more to prevent falls in hospitals, the health watchdog NICE has warned.
Each year in England some 200,000 patients - mostly elderly - slip or trip, resulting in cuts, bruises and fractures that cost the NHS £2.3bn.
NICE says staff should be on the look out for high-risk patients - the over 65s and those over 50 with dementia, stroke or vision or hearing problems.
Patients should use bedside buzzers if they need nursing help, it adds.
The new recommendations say that many falls are entirely avoidable.
For example, patients might be on medication that makes them dizzy, or they may have poor eyesight or problems with balance or with walking.
In these instances, adjusting their medication or offering alternative footwear and helping them walk to the lavatory might be all that is needed.
NICE says doctors and nurses should carry out falls risk assessments and reassure their patients that it is fine to ask for assistance.
Staff should tell patients to use their bedside calling system and should explain to friends and relatives when and how bed rails might be adjusted to prevent accidents.
Professor Damien Longson, a consultant psychiatrist who chaired the group of experts that developed the new recommendations for NICE, said: "Many patients who need extra support in carrying out simple tasks, such as reaching to get a drink or going to the bathroom, do not wish to make a fuss or to be seen as a burden to hospital staff.
"This can lead to them attempting to carry out these activities independently, which puts them at a greater risk of falling. In doing so, they can cause themselves significant harm and end up staying longer in hospital than they otherwise would have needed to.
"The NICE guideline advises doctors and nurses to reassure their patients that it is ok for them to press the call button, and that they are there to help them if needed."
Between October 2011 and September 2012 in England, around 900 patients experienced severe harm such as hip fractures and head injuries as a result of hospital falls. Another 90 patients died of their fall injuries.
A spokeswoman from Age UK said: "The consequences of a fall in later life can be physically and emotionally devastating, potentially resulting in loss of mobility, independence and confidence. In addition to the pain caused to the individual, falls cost around £6 million a day in hospital and social care costs to treat.
"Implementing these new guidelines to reduce falls in hospitals must be a priority for our health service, not only to improve patient safety, but to help save precious NHS resources."