Alert over petting farm sickness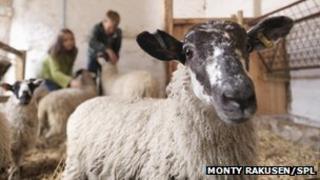 Public health experts are reminding people to be vigilant against diarrhoeal infections that can be caught by visiting petting farms.
Public Health England says, so far this year, there have been 12 disease outbreaks linked to petting farms across England, affecting 130 people.
People get infected by touching animals or surfaces contaminated by droppings.
The advice is to wash your hands with soap and water - antibacterial gels and wipes will not always work.
For example, gels and wipes do not remove the bacterium E.coli 0157.
It should be assumed that all cattle, sheep and goats will be carrying this infection, say experts.
Dr Bob Adak, head of gastrointestinal diseases at Public Health England, said: "These outbreaks of illness serve as a reminder for anyone visiting a petting farm of the need to wash their hands thoroughly using soap and water after they have handled animals or been in their surroundings - particularly before eating.
"Although we can avoid obvious dirt there will be millions of invisible bacteria spread all around the farm which can get onto our hands.
"Ahead of the seasonal rise in cases of E. coli linked to petting farms we want to remind people not to rely on hand gels and wipes for protection because these are not suitable against the sort of germs found on farms.
"Children should also be closely supervised to ensure they wash their hands properly, as they are more at risk of serious illness.
"By being aware and by doing these simple things we can help to avoid illness and enjoy a fun day out."