'I can relate to Lauren the alcoholic in EastEnders'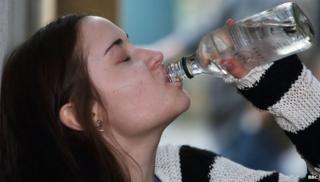 "My daughter is definitely an alcoholic," says Tanya about 19-year-old Lauren in a recent EastEnders episode.
For more than a year, the teenage character has been drinking heavily as a way to forget the turmoil of her mum's cancer diagnosis and her parents' break-up.
This week she ended up in hospital with acute liver damage.
If watching the character's painful descent into alcoholism on screen is difficult for viewers, experiencing the real-life destructive effects of booze at a young age is considerably more traumatic.
Just ask 20-year-old Jessie. She started drinking when she was 15, when her parents split up and she found herself responsible for looking after her six younger siblings.
The stress of dealing with a dad who drank heavily and a mum who was epileptic, while she juggled jobs to pay the rent, was too much - and she found solace in the bottle.
"Drink for me was a self harm. I knew it was bad, so I carried on. I wanted to keep hurting myself," Jessie confesses.
Her deep unhappiness meant that she had to have alcohol at all costs.
"I'd drink anything, whatever was the cheapest mostly. And I'd always find a way of getting it."
Make it real
Andrew Langford, chief executive of the British Liver Trust, acted as an adviser for the soap's storyline about Lauren's alcohol problems.
He says the soap handled her developing addiction accurately and sensitively - and he fervently hopes it will have an impact.
"I hope there will be some teenagers who will be affected by the story, who see it in themselves or - more likely - see it in their friends."
Viewers would have seen Lauren becoming an out-of-control teenager, coming home later, regularly drunk and sometimes going missing overnight.
This sort of behaviour has a major impact on parents and creates huge worry for families, he says.
But it's the health effects of Lauren's drinking, particularly liver failure, that may provide the most important message.
"The liver is incredibly immature at her age so it would be affected more quickly," Mr Langford says.
"It's a hard-hitting message, but young people are dying because of their drinking.
"We are starting to see liver wards where people in their 20s are dying of liver cancer."
'Ingrained'
Official figures confirm that teenage drinking continues to be a problem in the UK - but there is a glimmer of hope.
Between 2009 and 2011, there was a fall in the numbers of teenagers drinking alcohol, but those who are trying alcohol appear to be drinking it in greater quantities.
The UK also has some of the highest rates of alcohol consumption among young people in Europe, with only the Isle of Man and Austria having more.
Eric Appleby, from Alcohol Concern, says this is due to society's attitude to drinking.
"For too many young people, it's a badge of honour.
"To have a good time you have to have alcohol involved and that's been ingrained in our culture over the past 40 or 50 years."
For Jessie, once she started drinking she couldn't stop and she went on a downward spiral which led to depression and a suicide attempt at the age of 19, following a miscarriage when she didn't realise she was pregnant.
Finally, she realised she had to take control of her life and get away for a while.
"I'd spent a lot of my life caring for other people - caring for my little brother with Asperger's and looking after my mum."
So she made the decision to get on a train to London and, after a difficult few months, she is now living in a shelter with other young people and has just started working at a sandwich take-away chain.
'Help each other'
The support she was lacking from her family and friends at home has been replaced by counsellors, key workers and one-to-one advice from charity Foundation66.
But temptation is never far away, she admits.
"When I came here I realised I had no-one and I started slipping again until I met my new boyfriend.
"He was on drugs so now we stop each other from doing it. We are helping each other."
What happens next to the character of Lauren in the BBC soap is not being revealed, but Andrew Langford says it could go either of two ways.
She could go to rehab and recover from her addiction, which 15-20% of people manage to do, or return to drinking, as happens for 80% of alcoholics.
The stats are depressing, which is why it is so important for young people to get help quickly when they feel they are becoming hooked.
Foundation66 chief executive Frances Mapstone says young people often do not understand the real health and social risks of heavy drinking.
"If you are a young person and worried about your drinking, please talk to your GP. They can refer you to services that will work to improve your future."
In the end, Jessie says, the decision to turn her life around was down to her - and her alone.
"I needed more support but you've got to reach for it yourself.
"For a long time I was too proud to ask for it."