Q&A: Hospital death rates probe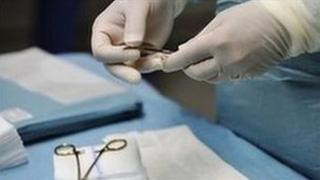 Standards of care at 14 hospital trusts have been investigated. It is the latest stage of a long-running focus on the performance of the NHS.
How did this investigation come about?
The investigation has been led by NHS medical director Professor Sir Bruce Keogh.
His team have carried out two-day inspections of the trusts as well as talking to patients and staff. Ministers asked Sir Bruce to look at the trusts as they had been "outliers" in the mortality rate figures for the previous two years.
It was ordered after publication of the public inquiry into the Stafford Hospital failings. This was because of mounting concern that the NHS was not holding failing hospitals to account.
One of the major criticisms of the inquiry, published in February, was that a culture had developed which was putting the interests of the system ahead of patients.
It highlighted failings at every level of the monitoring and oversight system - from the board of the hospital to the Department of Health.
What are mortality rates?
There are several ways of calculating mortality rates, but essentially they are a way of keeping an eye on performance.
Outliers are trusts which have a higher-than-expected number of deaths.
This is calculated by comparing performance with other similar hospitals.
The figures take into account factors such as the age of the local population.
It was the death rates at Stafford Hospital that first triggered regulators to start investigating that case.
But a high death rate is not always a sign of poor care. There can be valid reasons - for example the burden of illness in an area could be higher than in other similar areas and therefore the figures could be skewed.
The Keogh review has used two measures of death rates. One is summary hospital-level Mortality indicators (SHMI), which looks at deaths after hospital treatment and up to 30 days after discharge, and the second is hospital standardised mortality ratio (HSMR), which looks at deaths in hospital.
Which trusts have been investigated?
The 14 in alphabetical order are: Basildon and Thurrock University Hospitals NHS Foundation Trust, Blackpool Teaching Hospitals NHS Foundation Trust, Buckinghamshire Healthcare NHS Trust, Burton Hospitals NHS Foundation Trust, Colchester Hospital University NHS Foundation Trust, The Dudley Group NHS Foundation Trust, East Lancashire Hospitals NHS Trust, George Eliot Hospital NHS Trust, Medway NHS Foundation Trust, North Cumbria University Hospitals NHS Trust, Northern Lincolnshire and Goole Hospitals NHS Foundation Trust, Sherwood Forest Hospitals NHS Foundation Trust, Tameside Hospital NHS Foundation Trust and United Lincolnshire Hospitals NHS Trust.
If they have high death rates, why weren't these hospitals already being looked at?
They were. All 14 have been closely watched by regulators - although the signs are that the problems are not as significant as they were at Stafford Hospital.
The trust which runs that hospital has been put into administration - the ultimate sanction open to regulators.
None of the 14 is yet at that stage - or even had restrictions put in place, such as the closure of units.
Two trusts - Buckinghamshire and Basildon and Thurrock - currently have warning notices from the Care Quality Commission. That means they have been told to make improvements. If they do not they could face fines or restrictions on what they can do.
Meanwhile, another regulator, Monitor, has placed five in special conditions, one of these is on Basildon and Thurrock. These are related to on-going financial or governance problems. It means they are being closely monitored by the regulator.
So what is happening now the report has been published?
The trusts involved have been told to improve and will face further inspections. For 11 of them that will involve teams of external experts being brought in to help them - the so called hit squads.
Although it could be argued that five of the trusts - the ones in special measures under Monitor - were already faced with this prospect.
Nonetheless, all 14 will be re-inspected and face close monitoring over the next few months as the quality of care in the NHS remains a major focus.
But there are also some lessons for the wider NHS.
The review's report made it clear that hospitals should be checking that staffing levels and mixes were appropriate, while boards have been told to use clinical data more thoroughly to drive improvement.
In the long-term, the CQC is promising a tougher inspection regime. That should mean more hospitals trusts being placed in special measures if failures are found.