Dementia risk in UK going down, suggests study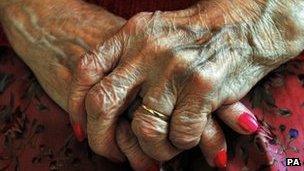 Older people's risk of getting dementia is going down in the UK, research suggests.
A study in the Lancet reveals a smaller proportion of older people living in Britain now have the condition than experts had predicted.
Researchers say it could be a reflection of improving public health.
The work looks at three areas of England - Cambridgeshire, Nottingham and Newcastle - and compares dementia rates in people born 20 years apart.
Based on 1991 trends, experts had predicted 8% of over-65s would have dementia in 2011.
The actual figure for 2011 turned out to be just over 6%, the Cambridge University team discovered.
Applied to the whole UK, it would mean there are 214,000 fewer cases of dementia than predicted - a 24% reduction.
This suggests there are 670,000 people living in the UK with dementia, rather than the 800,000 - 900,000 figure that experts currently cite.
Prof Carol Brayne and colleagues who carried out the analysis say the UK is still seeing more cases of dementia year on year as a whole because of the nation's ageing population.
More people are living to increasingly old ages, at which they are expected to be at the highest risk of dementia.
But for the individual, the study findings appear to be good news.
Co-researcher Prof Tony Arthur, from the University of East Anglia, said: "When you compared the two cohorts born 20 years apart you see that dementia prevalence has gone down.
"This could be because known risk factors for dementia are on the decline."
He said there had been improvements in managing cardiovascular disease, which has been linked to an increased risk of dementia.
"More people are spending more time in education as well which might be protective," he added.
Dr Eric Karran of Alzheimer's Research UK said the study was robust and made reliable comparisons by looking at two groups of over-65s from the same geographical regions and using the same assessment and analysis tools, 20 years apart.
"One interpretation of the findings is that general health and health management has improved to the extent that it has helped reduce dementia risk, which is encouraging news for us all," he said.
"However, this study clearly demonstrates that the risk of dementia can change with time, and for future birth cohorts it will be important to track, for example, the effects of the increase in obesity in the general population."
The Alzheimer's Society agreed, saying: "While this is good news, this is one study which needs careful examination and may not indicate a continuing trend.
"For example, we also know that other risk factors such as obesity are in fact increasing.
"Dementia remains the biggest health and social care challenge facing the UK. Today's research doesn't mean we can take our eye off the ball. With no cure, few effective treatments and an economic impact dwarfing that of cancer and heart disease, more research is needed to identify the causes of dementia and how to reduce people's risk."
The results are part of the MRC Cognitive Function and Ageing Study of more than 15,000 older people.
Related Internet Links
The BBC is not responsible for the content of external sites.