One in six NHS hospitals 'expanding private work'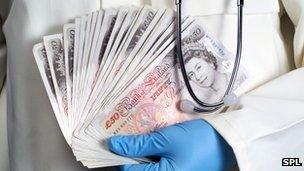 One in six NHS hospitals in England has begun offering private treatment options to their patients this year, an investigation reveals.
The British Medical Journal (BMJ) obtained data from 134 of England's 160 acute hospital NHS trusts.
It found 21 had recently introduced private or "self-funded" services.
Treatments offered include IVF treatment, varicose-vein removals and hernia repairs, charged at what they would normally cost the NHS.
Many are treatments that cash-strapped NHS commissioners now restrict or for which there are long NHS waiting times.
Providers told the BMJ the schemes made care more accessible to patients.
But critics say the growth of self-funding has muddied the waters between private care and the NHS by creating a two-tier system - particularly in combination with government rule changes that allow hospitals to raise up to 49% of funds through non-NHS work.
Hospitals that have introduced "pay for" options in the past year include:
Warrington and Halton Hospitals NHS Foundation Trust for varicose vein surgery
Epsom and St Helier University Hospitals NHS Trust for liver scans, and age-related macular degeneration
Princess Alexandra Hospital NHS Trust in Essex for imaging services and chemotherapy
Mid Cheshire Hospitals NHS Foundation Trust for cycles of IVF treatment for patients who have used up their NHS-funded cycles
According to the BMJ investigation, nine in 10 trusts - 119 in all - now offer private or self-funded services.
The Foundation Trust Network, which represents NHS foundation hospital trusts in England, said that most trusts had systems in place to stop paying patients "queue jumping" ahead of NHS patients when being treated in the same facility, and that it expected more treatments to be available to self-funding in the future.
Related Internet Links
The BBC is not responsible for the content of external sites.