Full 111 rollout put back to 2014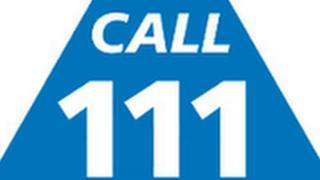 The full rollout of the NHS non-emergency telephone service has been put back to next year, NHS officials say.
The 111 service was due to be in place in April, but five of the 46 services areas are still not live.
NHS England said it was important to make sure 111 was running properly before it was put in place everywhere.
The service has been dogged with problems with reports of calls going unanswered and poor advice being given.
NHS England announced the move to delay the full rollout until the "early part of 2014" after a review highlighted problems with the way the procurement and piloting of the service was run.
The review found there was insufficient time from the completion of the pilots in the autumn to properly inform the creation of the service.
It also questioned whether the commissioners - it has been up to local areas to arrange the contracts - had a "real understanding" of the capacity of the successful bidders to deliver.
One of the factors in the problems that have been encountered could be the squeeze on costs, the review suggested.
The NHS Direct service, which 111 is replacing cost £20 per call, but most of the new contracts allow about £7.50 to £8.50.
Already one provider, which won 11 of the new contracts, has admitted its services may be "unsustainable".
The five areas not yet live are Cornwall, north Essex, Devon, Cambridge and Peterborough, and Leicester and Rutland. Cornwall and north Essex are likely to be the last to be rolled out.
Meanwhile, many of the other services are only up-and-running thanks to extra support that has been parachuted in.
NHS England director of policy Bill McCarthy said it was essential to "learn from lessons of the past and ensure the greatest benefit for patients and taxpayers".