Call for better cancer fertility care for young women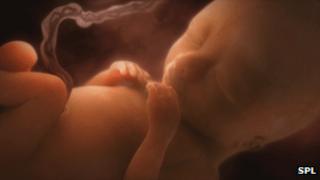 The care for young women needing cancer treatment which could damage their chances of having children needs to be improved, researchers say.
A study of 290 young patients in the UK showed fertility was frequently not discussed before treatment.
Writing in the journal Pediatric Blood and Cancer, researchers also highlighted problems with the way the issue was approached by doctors.
The Teenage Cancer Trust said doctors had a duty to inform patients.
Radiotherapy and chemotherapy can severely damage a person's sperm or eggs and may leave the patient unable to have children.
Freezing a man's sperm before treatment is relatively easy, and the young men in the study were largely happy with how their future fertility was dealt with.
However, collecting and storing eggs is more challenging and is sometimes impossible if treatment needs to start immediately.
The researchers at the University of Sheffield and The Children's Hospital in the city interviewed people in 2011 who had been diagnosed with cancer between the ages of 13 and 22. The results were compared with patients having the same treatment in 2004.
In both groups, about two-thirds of women could remember actually having a discussion about the impact on their chance of children and how their fertility could be preserved.
In 2004, the conversation happened after treatment had already started 62% of the time. In 2011 this improved to 31% of cases, the study said.
It also suggested that most young women were unhappy with the way the doctors brought up the issue and there was no clear improvement between 2004 and 2011.
Dr Allan Pacey, from the University of Sheffield, said fertility preservation was often not a realistic option if cancer treatment needed to start immediately.
He told the BBC: "It's a really stressful time and oncologists are doing a good job, but the words doctors use can be either quite sensitive or insensitive.
"We've changed practice, but we've not got any better at helping these women."
'Fundamental right'
Dr Dan Yeomanson, a consultant paediatric oncologist for Sheffield Children's NHS Foundation Trust, said the study highlighted important gaps in the care of teenagers and young adults with cancer.
He said: "This study highlights the need to discuss fertility issues with young patients, especially females, before treatment begins even if there are no options available for fertility preservation.
"Given the wealth of information that needs to be given before treatment begins, it is easy to see why fertility issues are sometimes not handled as well as they could be."
About 2,100 young people aged 15-24 are diagnosed with cancer each year in the UK.
Simon Davies, the chief executive of the Teenage Cancer Trust charity, said: "Young people have a fundamental right to be made aware of the fertility problems cancer treatments can cause.
"Fertility is something many young people won't even have considered yet and it is incredibly important that these issues are discussed and that all options are understood.
"Health professionals have a duty to give clear information about all the long term effects of treatments and hopefully this work will help keep this front of mind for those working with young people with cancer."