Virginia Johnson: The 'first woman of sex therapy'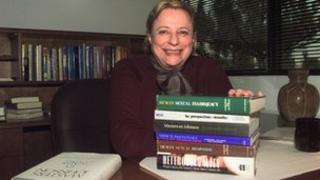 It may seem surprising in these days of TV programmes exploring the extremes of sexual behaviour, with no topic off limits, but there were days when what happened in the bedroom stayed firmly behind closed doors.
That changed partly thanks to the work of Masters and Johnson, US researchers and later husband and wife, who carried out large-scale sexual experiments.
One half of the couple, Virginia Johnson, died this week, aged 88.
She was a twice-divorced mother in her 30s when she went job-hunting at Washington University in St Louis in the late-1950s to support her young family while she pursued a college degree.
Soon she became an assistant to obstetrician-gynaecologist William Masters, and later his lover and collaborator on large-scale human sexuality experiments.
They published two best-selling books on sexual behaviour, Human Sexual Response, in 1966 and, in 1970, Human Sexual Inadequacy.
Johnson and Masters married in 1971 but divorced 20 years later. William Masters died in 2001.
'Broke the silence'
Susie Quilliam, a psychologist and author of an updated version of the Joy of Sex, told the BBC that Dr Johnson "was hugely important".
"There had been studies before - the Kinsey report - but Virginia Johnson was the first woman to seriously input into scientific research in this area.
"She brought a female perspective to William Masters' work. She helped break the silence, and brought scientific insights into sexuality."
Ms Quilliam said people did "snigger" about sexual therapy, but said Masters and Johnson had helped give the field respectability.
"They actually measured what they called sexual incidence in the laboratory - 10,000 'sexual incidents' and about 700 people. It was the first time that had ever been done."
Paula Hall, a sexual psychotherapist with Relate, said: "Masters and Johnson were absolutely critical. What they did was to demystify sex and sexual problems.
"And they legitimised it in a way by making it scientific. They saw it as something very important and took sexual problems seriously as part of people's lives."
She added: "The thing that was really groundbreaking was how much they talked about the couple and the woman's sexual function."
Bedroom performance
Their technique involved first asking people about their sexual history and checking there were no physical causes for the problem.
The patient would then move on to specially designed therapies to help them overcome their particular issue.
The researchers checked the heart rate, brain activity and metabolism during sexual activity.
Their work helped people who were experiencing problems such as premature ejaculation, impotence, and other forms of sexual dysfunction.
Robert Kolodny, who studied with Masters and Johnson in the 1960s and later became a researcher and training director at their institute, said Johnson was unique in the field of sex research.
"She received many awards, and is fairly widely recognised as one of the most important women in science in the 20th Century."
Kolodny, who wrote 14 books with the couple, said: "It turned a lot of lives around."
Paula Hall said, while developments such as the discovery of the erectile dysfunction drug Viagra had changed how sexual problems were dealt with now, Masters and Johnson's work had laid the foundation for sexual therapy as it stands today.
"They provided a really good solid foundation. It has grown and diversified from that base."