Summer holidays lead to 'September spike' in asthma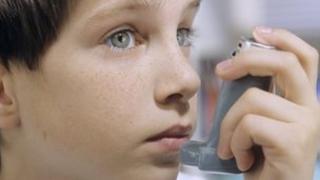 Children with asthma are at increased risk of attacks when they go back to school in September because of poor care over the summer, a charity warns.
Asthma UK says the holidays often see a relaxation of medication regimes.
The "September spike" happens every year, it suggests, with attacks brought on by exposure to common triggers such as cold and flu viruses.
The charity says 75% of admissions could be avoided if medication was taken properly.
There are around 1.1 million children with asthma in the UK - around two children in every classroom having the condition.
More than 25,000 children were hospitalised because of their asthma in 2011-12, with 18 children aged under 14 dying as a result of an asthma attack in 2011, the charity says.
A key part of managing the condition is prevention - if children continue to use their inhaler twice a day, they are at a much lower risk of an attack.
But this can fall by the wayside over the school holidays as families go away, or rely on carers to look after children who may not be aware of their condition.
Asthma UK is launching a Back to School campaign in a bid to raise awareness among parents of the need to maintain the inhaler regime.
Deputy chief executive Dr Samantha Walker said: "Normal routines can go out of the window during the summer break, which can effectively create a time-bomb for children with asthma.
"Those who forget to take their preventer inhalers over the summer will be less in control of their symptoms and therefore more vulnerable to asthma attacks come term time."