Hospital extends scheme to treat patients at home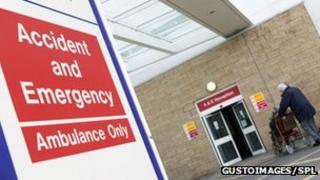 The announcement last week of extra money to help struggling A&E units was a reminder of deep concerns in the health service - and in government - over how they will cope in the coming months.
The move followed repeated warnings that hospitals were overstretched, and calls for better community-based services.
In part, this is about preventing admissions. But it also requires prompt discharge to free up beds.
A scheme in north London allowing people to go home even when they are still acutely ill is being extended to more patients.
Up on the seventh floor of the Royal Free Hospital, a ward with space for 24 beds is being refurbished. A scheme to send patients home early has allowed this area to be redeployed - to take patients requiring vascular and specialist cancer treatment - and potentially to help absorb people coming in through A&E.
Trust and collaboration
The process, called post-acute care enablement (Pace), begins by identifying patients who are poorly but medically stable.
Each day "casefinders", employed by community health trusts but based in the hospital, look out for patients who, with the right support, may be ready to head home.
They work in close partnership with hospital doctors and nurses.
One of the casefinders, Kumar Kabali, says the scheme relies on trust and collaboration, though he admits there is still the occasional disagreement.
"From time to time it happens. Then we can explain to them, this is what the condition is, this is what the plan is. This is what the patient needs. So then we discuss this step by step, and then the team can say this patient can go home."
Many hospitals have some kind of early discharge scheme, but this goes further. Patients on Pace - often frail elderly people with long-term heart or breathing problems - are not formally discharged, but stay under the formal care of the hospital consultant on what is called a virtual ward.
Back at home or in a care home they receive extra nurse-led support for several days and free social care for help such as washing and dressing. About 3,000 patients have been through the scheme.
'Changing cultures'
Satisfaction is high. Readmission rates have fallen from about 20% to 3.5%. The programme is overseen in the Royal Free by Dr Alexandra Wu.
She says: "What makes this project thrive is that we didn't give up too early. Because you're changing mindset, changing cultures. It's a huge educational programme both in the hospital and out in the community in terms of skilling people up and changing people - how they think traditional healthcare is delivered."
A recent report on this type of "recovery-at-home" scheme in England, written by Alex Kafetz, of ZPB Associates consultants, found it could free hospital beds and improve care for patients.
Mr Kafetz says: "We've looked at how the service operates in hospitals who are doing this particularly well, and we've looked at the size and the number of beds in each hospital in the country, and we think they could create up to 5,800 virtual beds on a programme like this. That very crudely equates to about 40 beds in every hospital."
Andrew Karrouze heads the Pace team visiting patients in their homes in Camden, north London. He says all the nurses have advanced skills in assessment and prescribing, and backgrounds in hospital intensive care, coronary care and A&E.
"Why we differ from a district nurse service is we have a smaller caseload. We're able to be intensive with our visits. We can step up or step down to meet the need. I think that's very novel and it's an unusual way to work."
'Absolutely delighted'
He says they only draw on support from the Royal Free when it is really needed, and confidence between the hospital and community teams is good.
One of the patients on the scheme, 84 year-old Renee Vincent, told me she had welcomed the opportunity to get out of hospital.
She said: "I felt more happy than ever. It was such a relief. I was delighted. Absolutely delighted."
The chief executive of the Foundation Trust Network, Chris Hopson, said the scheme provided "a great example of exactly the new patterns of care the NHS needs".
The Royal Free says this is not about saving money but that patients do get better care at a lower cost, and beds are freed to cope with growing demand. The scheme is being expanded, but even here, three years in, this is still a learning process, and the full potential is not yet clear.