Use of ADHD drugs 'increases by 50% in six years'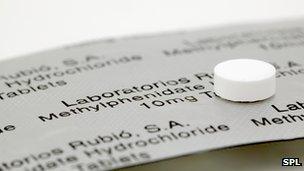 There has been a 50% rise in England in the use of drugs for attention deficit hyperactivity disorder in six years.
NHS prescriptions for methylphenidate drugs, including Ritalin, rose from 420,000 in 2007 to 657,000 last year, the Care Quality Commission said.
The watchdog warned health workers to "carefully monitor" their use as they have the potential to be "abused".
The drugs are one of a number linked to the "smart-drug" craze, where students take medication to help them focus.
Methylphenidate is known as a psychostimulant.
While it is not completely clear how it works, it is thought to stimulate a part of the brain that changes mental and behavioural reactions.
The CQC report - its annual review of controlled drugs - said the number of prescriptions for both children and adults for such medications rose by 11% between 2011 and 2012.
Private prescribing also rose during the period going up from just under 2,000 in 2007 to just under 5,000 last year. But as the numbers of these are a small fraction of the NHS prescriptions the belief is that the rise has been driven by an increase in the number of ADHD diagnoses.
The commission said: "As in previous years, we believe that this reflects increased diagnosis of, and prescribing for, the treatment of ADHD.
"We are also aware of the possibility that methylphenidate could be diverted and abused, and for this reason we recommend that its use should be monitored carefully."
Consultant psychiatrist Professor Tim Kendall, who has compiled national guidelines on treating ADHD, told BBC Radio 4's Today programme the increase in prescriptions was a worry.
He said: "I think it's a real trend. I think it's too big to be ignored."
Asked if there are any dangers to people who take methylphenidate drugs over a long period, Prof Kendall said: "In children, without doubt. If you take Ritalin for a year, it's likely to reduce your growth by about three-quarters of an inch.
"I think there's also increasing evidence that it precipitates self-harming behaviour in children and in the long term we have absolutely no evidence that the use of of Ritalin reduces the long-term problems associated with ADHD.
"Having said that, if you've got a kid with severe ADHD, it's very difficult to treat them psychologically without using Ritalin as well."
Common symptoms of ADHD include inattentiveness, hyperactivity and impulsiveness. Symptoms tend to be first noticed at an early age and it is normally diagnosed between the ages of three and seven.
It is estimated that the condition affects 2% to 5% of school children and young people - although less than half of those have the severe form that requires medication. However, it can be a lifelong condition and many people continue to show symptoms in adulthood.
The CQC report also found there has been large increases in the use of other controlled drugs.
Methadone prescriptions in the NHS - used for pain relief and as a substitute for heroin - rose from 1.8m to 2.3m over six years, while buprenorphine - another addiction drug - more than doubled to over 2.2m
However, use of the sleeping pill temazepam fell from 3.2m to 2.3m.
Related Internet Links
The BBC is not responsible for the content of external sites.