Glucose testing strips recalled over false reading worry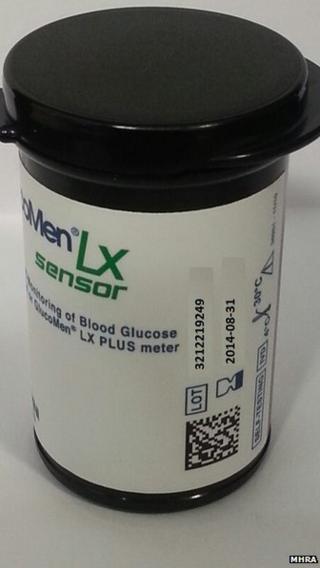 More than 1.7 million blood glucose testing strips are being recalled.
They are GlucoMen LX Sensor blood glucose test strips for use with the GlucoMen LX and GlucoMen LX PLUS blood glucose meter.
The Medicines and Healthcare Products Regulatory Agency said the strips should not be used because they could give inaccurate results, leading to a patient injecting too much insulin.
The strips are manufactured by Menarini in Italy and distributed in the UK.
There are no reports at present of patients being harmed by using the strips, which have been subject to a manufacturing fault, the regulator added.
Just over 1.7 million test strips in the affected lots were sold to pharmacies in the UK between October and November 2012.
The affected lots are 3212219249 and 3212214249 - both have the expiry date of 31 August 2014.
John Wilkinson, director of medical devices at the MHRA, said: "If people have the faulty test strips at home they can telephone the manufacturers Menarini on 0800 243667 who will provide free replacements.
"If they have questions, they can contact their GP, diabetes clinic or another healthcare professional who can give them advice about what alternative test strips they can use."