Physiotherapists given prescribing powers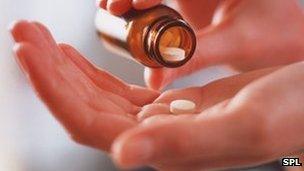 Physiotherapists and podiatrists have been given prescribing powers in the UK, meaning they can give medicines to their NHS patients.
The legislation should improve access and speed of treatment.
Staff will need to prove they have completed the necessary training before they can start handing out drugs.
Nurses and pharmacists are already allowed to prescribe under similar arrangements brought in by the government some years ago.
Until now, physiotherapists and podiatrists could prescribe medication, such as painkillers, only when working with the written authority of a doctor as a 'supplementary prescriber'.
Care and Support Minister Norman Lamb said the move would not only benefit patients by making it more convenient to get treatment, but would also free up valuable GP time.
"Physiotherapists and podiatrists are highly skilled professionals and these changes will allow them to give better care to the millions of people with acute and long-term conditions," he said.
Phil Gray, chief executive of the Chartered Society of Physiotherapy, said: "This is a landmark moment that will lead to patients receiving faster, more effective treatment for their condition.
"Physiotherapists being able to independently prescribe - for the first time anywhere in the world - will remove bureaucracy, free up time for doctors and save money for the NHS."
Around 15 million people are currently living with a long term condition which requires trips to hospital or to the GP.
Many of these could benefit from the new legislation.
Related Internet Links
The BBC is not responsible for the content of external sites.