Syrian hospitals at 'breaking point' as medics flee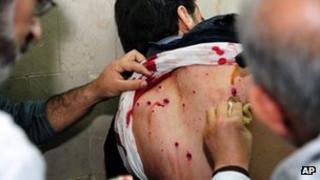 A group of 50 doctors, including Nobel Prize winners, say Syria's health system is at breaking point as medics are forced to flee the fighting.
The signatories to the letter in The Lancet say it is "arguably one of the world's worst humanitarian crises since the end of the Cold War".
According to the Violations Documentation Centre, 469 health workers are currently imprisoned.
Some 15,000 doctors have left Syria, says the Council on Foreign Relations.
Of the 5,000 physicians in Aleppo before the conflict started, only 36 remain.
According to the World Health Organization, 37% of Syrian hospitals have been destroyed and a further 20% severely damaged.
"Makeshift clinics have become fully fledged trauma centres, struggling to cope with the injured and sick," says the letter.
It warns that horrific injuries are going untended; women are giving birth with no medical assistance; men, women, and children are undergoing life-saving surgery without anaesthetic; and victims of sexual violence have nowhere to turn to.
"The Syrian population is vulnerable to outbreaks of hepatitis, typhoid, cholera, and dysentery. The lack of medical pharmaceuticals has already exacerbated an outbreak of Cutaneous leishmaniasis, a severe infectious skin disease that can cause serious disability, there has been an alarming increase in cases of acute diarrhoea, and in June aid agencies reported a measles epidemic sweeping through districts of northern Syria," the letter says.
The signatories, which include former WHO chief Gro Harlem Brundtland, demand that medical colleagues in Syria be allowed and supported to treat patients, save lives, and alleviate suffering without the fear of attacks or reprisals.
"We call on the Syrian Government and all armed parties to refrain from attacking hospitals, ambulances, medical facilities and supplies, health professionals and patients," they say.