London's A&E units facing 'very bad' winter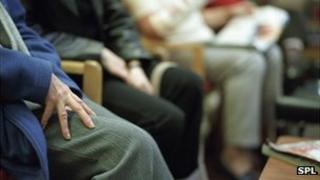 Accident and emergency units in London are facing a "very bad" winter, politicians and doctors are predicting.
Latest data shows the capital's major A&E units are already missing the four-hour treatment target - despite summer just coming to a close.
Ministers have already set up a bailout fund for struggling hospitals.
But a London Assembly meeting was told it would not be enough to guarantee hospitals would cope this winter in London - and the rest of the country.
Royal College of GPs president Dr Clare Gerada told the London Assembly's Health Committee that, like many areas of the country, London was facing a difficult time.
"We are going to have a bad winter - very bad," she said.
Andrew Dismore, a Labour member of the committee, added: "We have a sticking plaster solution to A&E, but the plaster is going to come off as soon as it starts to rain.
"A sticking plaster solution for London is not going to work."
Earlier this week a leaked NHS England report showed that just over 91% of patients were waiting longer than four hours in A&E - below the 95% target - a figure which is normally only seen during the winter.
'Better placed'
The London Assembly meeting was also held just weeks after the government set out how the first tranche of the £500m bailout fund would be shared across the NHS.
The sum is to be spread evenly over the next two winters.
This year 10 London hospitals will be sharing £55m, although this will be spent on both hospitals and community services, such as social care.
Dr Anne Rainsbury, director of NHS England in London, said the money meant the NHS was "better placed to cope".
But she acknowledged longer-term solutions were needed to make the system "sustainable".
She added that that included creating 24/7 speedy access to specialist services for the sickest patients and investing in community and out-of-hours services to encourage those who needed less urgent care to use alternatives to A&E.