Fertility chief calls for clarity on IVF pros and cons
By Adam Brimelow
Health Correspondent, BBC News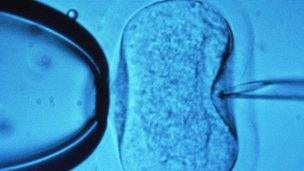 The head of the UK's fertility watchdog says couples considering IVF treatment should understand its potential for grief, as well as success.
Speaking on BBC Radio 4's "Point of View" the outgoing chair of the Human Fertility and Embryology Authority Prof Lisa Jardine, said those providing the treatment "traded in hope".
But she warned that success rates were "discouragingly low".
The charity the Infertility Network has welcomed her comments.
Prof Jardine will be leaving the HFEA in the new year after six years in post.
In the broadcast she expresses pride in the regulator's achievements during that time - keeping public confidence in a "fast changing field".
But she says she also has regrets: in particular her difficulties in conveying the drawbacks as well as the benefits of fertility treatment - something she had seen as a personal mission.
She describes success rates as "discouragingly low", leaving two thirds of would-be mothers and fathers with the heartbreak of "failure" after each cycle of IVF.
She also cites the high cost, with the majority of treatments funded privately.
"A couple - and nowadays that means same sex couples as well as traditional ones - is likely to have spent something of the order of £15,000 for the three cycles it is likely to have taken should they be fortunate enough to become pregnant."
She says she tried to raise these concerns but found the media was more interested in stories of "hope" - including medical breakthroughs, celebrity births and tales of miracle babies.
Couples considering IVF, she warns, must be made aware of the heartache of unsuccessful treatment.
"The world of IVF is a market, a market in hope. Those who enter it deserve to be fully informed of its potential to deliver grief and a sense of failure, as well as success."
The charity Infertility Network UK, which supports people who have trouble conceiving, has welcomed professor Jardine's comments.
In a statement it said hope was important for couples going through IVF treatment, but for many that could turn to despair.
"No one starts out having treatment thinking that it won't work, but sometimes a lack of understanding of the 'real' success rates can lead to crushing disappointment for some couples who never for one minute entertained the thought that they wouldn't be successful. "