Why even successful women are insecure about their looks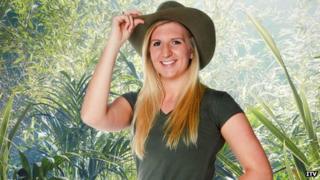 When a recent discussion about beauty on I'm a Celebrity... Get Me Out of Here ended in tears, the surprise was not the emotion shown - but the person showing it.
Double Olympic gold medallist Rebecca Adlington is credited with inspiring a generation of young swimmers. She was the first British woman to win Olympic gold in the pool for nearly 50 years.
But the 24-year-old swimmer, who retired from competitive swimming earlier this year, was clearly upset by comparisons with a fellow contestant and model on the show.
And during the conversation, she revealed she felt "very insecure" about her body.
What does a successful sportswoman's vulnerability about the way she looks say about the society we inhabit?
Superficial
Adlington has been subject to vile and abusive comments about her looks and it is something she has fought against over the years.
As a result, her deep sensitivity on this issue is understandable, but Prof Andrew Hill, head of the psychiatry and behavioural sciences unit at the University of Leeds, says there is something else at play too.
"These programmes show people being evaluated superficially by others and the media - where the focus is on appearance rather than achievement."
The consequence is, he says, that despite all her Olympic medals, Rebecca Adlington "puts it all to one side and judges herself as unworthy or failing".
"It's not the message we're trying to send out to young people."
It is not Adlington's either. She said afterwards of her fellow contestant Amy Willerton: "She's stick thin, she's got big boobs, she's absolutely beautiful. We're promoting being that way. Why not just be a normal girl?"
Throughout history beauty has always been sought after, even though what is considered beautiful has changed over time, as values have changed.
This may have originated in men looking for young, well-proportioned, fertile women with whom to mate.
Whether beauty is an in-built ideal in women has been keeping psychologists busy ever since.
Subtle message
On a TV show, designed to create argument and disharmony, where contestants are scrutinised by millions of people watching on TV, any insecurities are always going to be magnified and exposed.
But what about outside the jungle environment?
According to Dr Helen Sharpe, from the Institute of Psychiatry at King's College London, society has created these pressures and continues to promote them.
"There is this subtle message running through all mass media and reflected in conversations with friends and family that beauty is equated with happiness and success.
"You can't just be successful, you've got to have the looks at well."
Dr Sharpe suggests that even high-achieving women can feel very conscious about the way they look. It can start when vulnerable young people compare their appearance to others and this can then trigger negative feelings about the way they look.
If this is combined with low self-esteem, teasing and insecurities then body dissatisfaction can soon follow, she says.
Idea of beauty
Even in the toned world of sport, the very physical nature of their event can make female sports stars insecure about their appearance in a way that male athletes are not.
Dr Sharpe explains: "Female athletes' bodies reflect their incredible physical abilities, which were really valued during the Olympics in London recently, but for women that isn't part of the perceived idea of beauty.
"For men the big-shouldered, muscled physique is much more aligned to the idea of male beauty."
It is certainly hard to imagine a male athlete being insecure about his body, but that doesn't mean that men, particularly young men, are not judging each other and their appearances.
Research shows that women are more likely to feel pressure to look a certain way but, increasingly, it is an important issue for boys too, says Prof Hill.
There has been a rise in male eating disorders, which some experts have put down to body image becoming more of an issue, particularly for young men at university.
Whether male or female, distress over how you look can make you feel miserable and unhappy. This distress can be manifested in lots of different ways but research shows that it can put people at risk of depression, eating disorders, taking up smoking and risky sexual behaviour.
Prof Hill says the answer is to find people you can talk to who are supportive.
"You need to surround yourself with family and friends who value you as a person, not as an image on camera."
Dr Sharpe, who has developed a course on positive body image for teenage girls in schools, says a broader approach is necessary which encourages young people to look critically at the role of the media in society and really analyse how they talk to their peers.
It's about changing the environment boys and girls are growing up in, she says.