Epilepsy surgery disconnects one half of baby's brain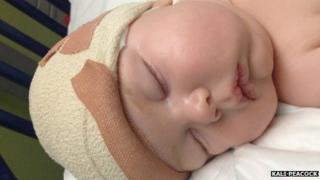 Finlay Ritchie was just seven weeks old when brain surgery was first mentioned to his parents, Kali and Martin.
"We felt completely numb going home on the train afterwards," Kali says. "But Finlay had no future at that point - and neither did we."
On a bad day, their baby boy was having around 100 seizures a day, which were characterised by shivering and whimpering, followed by shaking, jerking and crying.
"The doctors said they wanted to sever the connections between the hemispheres of his brain and shut down the left side. They told us he would probably be paralysed down his right-hand side.
"It was frightening, but doing nothing was not an option because medicine alone wouldn't ever be able to control it."
Abnormal brain
The day after Finlay was born at Eastbourne District General, doctors realised he was fitting constantly and they immediately started investigating the cause with a barrage of tests and scans.
Just four days later they were told he had pachygyria - a thickening of the folds in the brain, which had caused the left side of his brain to develop abnormally.
Last Christmas, just three weeks after Finlay's birth at Eastbourne, he was in and out of hospital. If his parents couldn't sedate him at home with medication, while checking his heart rate and breathing, then they had no option but to call an ambulance.
It was a horrible, frightening and emotional time for two bewildered first-time parents. But they pay tribute to the doctors and nurses who held their hands through the trauma of those early weeks and months.
It was when they met neurologists at the Evelina Children's Hospital in London to discuss his case, that surgery was first discussed.
Act early
Epilepsy surgery is no longer seen as a last resort, particularly in small babies, thanks to growing expertise and improving technology which means that brain surgery can cure seizures in up to 70% of cases. If the cause of seizures can be found, then neurologists now prefer to do something about it, rather than leaving it.
Great Ormond Street Hospital in London is one of four specialist centres carrying out this type of surgery in the UK. Around 80 procedures were performed there last year.
Surgeons at GOSH performed a hemispherotomy on Finlay when he was 19 weeks old, which disconnected one half of his brain from the other half so that the seizures could not spread.
With the left side of the brain controlling the right side of the body, the risk of paralysis on his right side was high.
But Sophia Varadkar, consultant paediatric neurologist and clinical lead for children's epilepsy surgery at GOSH, says it was the best way of giving Finlay's brain the chance to develop.
"Small children's brains are very clever, they can adjust. Probably before birth the good side of his brain had taken over, so control of the right side of his body had already been taken over by right side of his brain."
Positive future
Instead of paralysis, Finlay was able to kick both legs after the operation. He had lost vision on the right side of both eyes, but that was all.
His parents are thrilled by the transformation in him, which they could see clearly just days after the operation.
Most importantly, "he hasn't had a single seizure since surgery", says Kali, talking eight months on.
"He's now talking, he's very chatty and curious, he's holding things and trying to turn over."
Finlay is about six months behind developmentally because of all the seizures he had in his early life, but he has regular physio and check-ups to keep him on track.
Now aged one, Finlay's doctors say there is no reason why he can't learn to walk and talk and lead a very normal life.
Family life is returning to normal, Kali has gone back to work, and for the first time their son does have a future.