Jeremy Hunt crazy to call hospital bosses, says regulator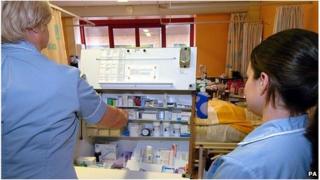 It is "crazy" for Health Secretary Jeremy Hunt to personally call hospital bosses who miss A&E targets, the health regulator for England has said.
David Prior, chairman of the Care Quality Commission, told the Daily Telegraph it was an "obsession".
The Department of Health said Mr Hunt "would not be doing his job" if he did not keep in touch with frontline staff at hospitals.
This has previously included phoning chief executives.
Mr Prior also criticised the "target culture" in the NHS but the health secretary's spokesman said patients needed guarantees.
Labour responded by defending the use of targets, which were brought in while it was in power. Shadow health minister Jamie Reed said they had cut waiting lists and increased patient satisfaction.
But Dr Richard Vautry, deputy chairman of the BMA's GP committee, said they did not help to improve morale among staff, "and can sometimes hinder the ability to improve our services".
'Held accountable'
In the interview, Mr Prior, the head of health regulator the CQC, criticised Mr Hunt for directly calling hospital chief executives, saying: "There is an obsession. It's crazy to have a secretary of state doing that.
"Of course he's doing it because he's held accountable, but what it all leads to is more money being put into A&E departments when that money should probably be put into primary and community care to stop people falling ill," he added.
Mr Prior, a former Conservative MP and deputy party chairman, also voiced concern over targets.
"The whole culture of the NHS became so focused on targets that it obscured what real quality was about. The voice of the patient wasn't in those targets," he said.
Mr Prior said that when patients arrived in A&E "the clock starts ticking and not a lot happens".
"At three hours people start to get interested - and at three hours 55 minutes the chief executive is down in the A&E department. That doesn't make any sense," he said.
The NHS in England has waiting time targets of four hours for patients in A&E.
Mr Prior also said he felt the NHS "became too powerful to criticise" despite many patients receiving a "wholly unsatisfactory" service.
Missed targets
Stephen Dorrell, chairman of the Commons Health Select Committee, said Mr Hunt should not try to "micro manage" hospitals.
"There are too many of them and the secretary of state doesn't have the necessary expertise," he said.
A Department of Health spokesman said: "Jeremy Hunt would not be doing his job if he wasn't keeping in touch with hospitals on the front line in the run-up to winter and talking and listening regularly to feedback about how things are going."
A spokesman for Mr Hunt said some targets, including those for A&E waiting times, had been relaxed and others scrapped since the coalition came to power.
However, he said there was a "balance" to be struck because the public needed guarantees that they would be treated quickly.
The spokesman also defended the performance of A&E units, saying they were "holding up well" and more people than ever before were being seen within four hours.
Mr Reed said: "In 1997 people were waiting for months and years to be seen and receive treatment, but by 2010 targets had helped to deliver the lowest ever waiting lists and patient satisfaction was at a record high. That is why this government has continued to use targets.
"The focus now needs to be on the winter crisis engulfing A&E. When Labour left office, 98% of patients were seen within four hours, but the government continues to miss its own lowered A&E target."